2022 in a nutshell
December 22, 2022 - Company
As we reach the end of another year, we'd like to take a moment to look back and share with you the events that have made 2022 another milestone in the history of Goupil.

This year was marked by the production ot the 10,000th Goupil G4, our flagship model.
In 2022, 3,400 vehicles were manufactured overall, a testament to the quality of our products and the commitment of our employees.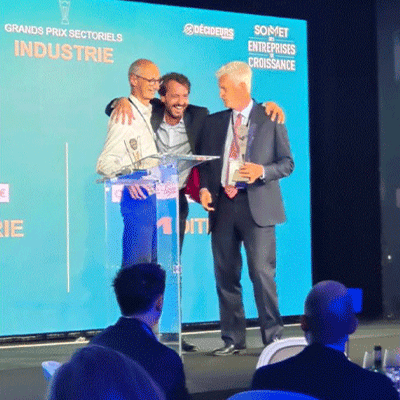 Goupil's achievements
We started off strong by obtaining the ISO 9001 and 14001 certifications in February 2022, a great team effort thanks to the hard work carried out by the different departments of the company.
In June, Olivier Pelletier, our General Director, received a "Trophée d'Or" (Golden Trophy) in the category "Industry under €100M" at the "Sommet des Entreprises de Croissance" (Growth Companies' Summit).

Goupil : a comfortable and sustainable work environment
Throughout the year, we continued the expanding and refurbishing of our various buildings, a huge job that was started in 2021: new office furniture, painting, decorating, new storage buildings were built…
Solar panels were installed on the roof of the premises and in the parking lot enabling Goupil to strengthen its commitment towards a sustainable environment.
Goupil on the road
Our sales teams have taken part in various exhibitions both in France and in Europe.
Goupil was present at the Urbest trade show that was held in Metz in March, then we went to the Ever show in Monaco in April.

From the May 30 to June 3, we joined our German partner at the IFAT exhibition in Munich.
We were also present at the Salon Vert in Saint-Chéron in September, together with our French distributor Jardins Loisirs.

November 2022 was marked by the SMCL trade show in Paris, an annual event held in Paris for local authorities.
Goupil behind the scenes
Goupil headquarters are based in the of Lot-et-Garonne. Our beautiful department in the Southwest of France is also home to one of France's most famous music festivals "Garorock", which is held every year at the beginning of summer.
This year marked the 25th edition of the festival and Goupil was once again one of its sponsors. Around 20 Goupil vehicles worked behind the scenes for maintenance operations, transport of equipment for the assembling and dismantling of the various stages.
At the end of August, our vehicles were once again present for the "Fêtes d'Agen", a weekend of music, concerts and cultural events in the heart of the town of Agen in Lot-et-Garonne.