High tip waste collection body
Our range of electric utility vehicles includes models dedicated to waste collection.
Designed for cities, businesses, airports and holiday villages alike, the high tip waste collection body is an essential equipment for the daily management of your site..
Why choose the high tip waste collection body?
Are you managing waste collection operations on your site? Opt for our 100 % electric G4 or G6 vehicles with high tip waste collection body for your maintenance teams.
Ergonomic and efficient design
The high tip waste collection body is ideal for city centres as it has been specificly designed for areas with restricted access, therefore facilitating refuse collection.
The ergonomic design of the waste collection body provides a comfortable work tool for your maintenance teams.
With the lateral dropdown door at 1.35 m, waste loading is made easier. Unloading is just as simple: the collector tits backwards at 90° to a dumping height of 1.40 m.
Depending on the chassis, the Goupil waste collection body can carry from 2.3 to 3.6 m3 of waste.
When collecting household garbage or bins in city centres, we suggest adding a roll-up canvas to avoid losing paper or plastic waste when driving.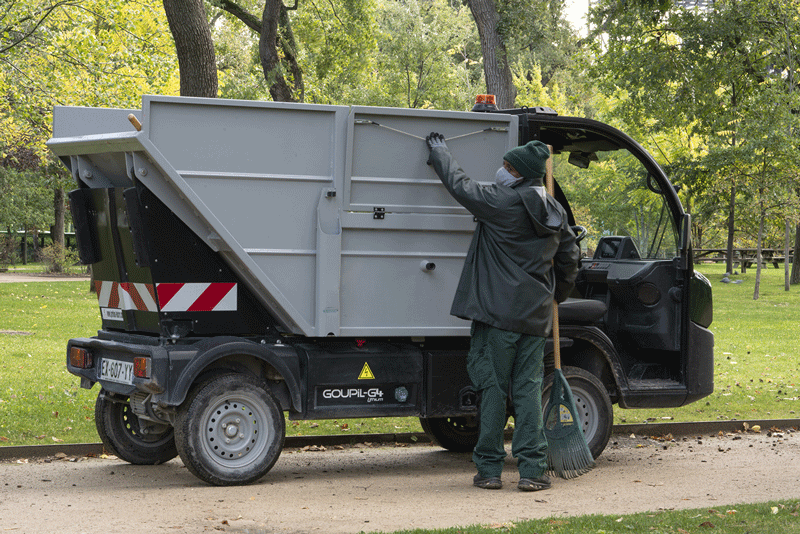 The combined version for even more efficiency
When collecting garbage, cleaning of the area is often required. These two operations can be done simultaneously thanks to our range of combined vehicles, as several equipment can be fitted to the same chassis.
For optimal efficiency, you can choose the combined G4 L with waste collection body. The long version of the G4 offers an extra 50 cm in length for a maximum volume for waste collection. You can combine our waste tipping collector with a storage box, ideal for packing tools or cleaning products. For optimal cleaning results, you can choose the high-pressure washer.