Goupil has built its success on its capacity to answer the very specific needs of demanding customers. Our range of G4, G6 or G2 vehicles offers tailor-made solutions for the maintenance of your public spaces.
The issues facing governmental authorities are the same in leisure centres, amusement parks, hospitals or industrial sites. The cleaning of communal areas or public roads are subject to the same constraints, particularly the need for discreet and safe operations.
Goupil vehicles are a perfect fit, offering 100 % electric and ultra-compact solutions. These features enable cleaning operations in close proximity to the public or even inside buildings, without causing any noise or air pollution.
Why choose Goupil for public space cleaning?
Perfectly adapted to Stop & Go applications, the electric vehicle brings a safe and ergonomic solution to public area cleaning agents.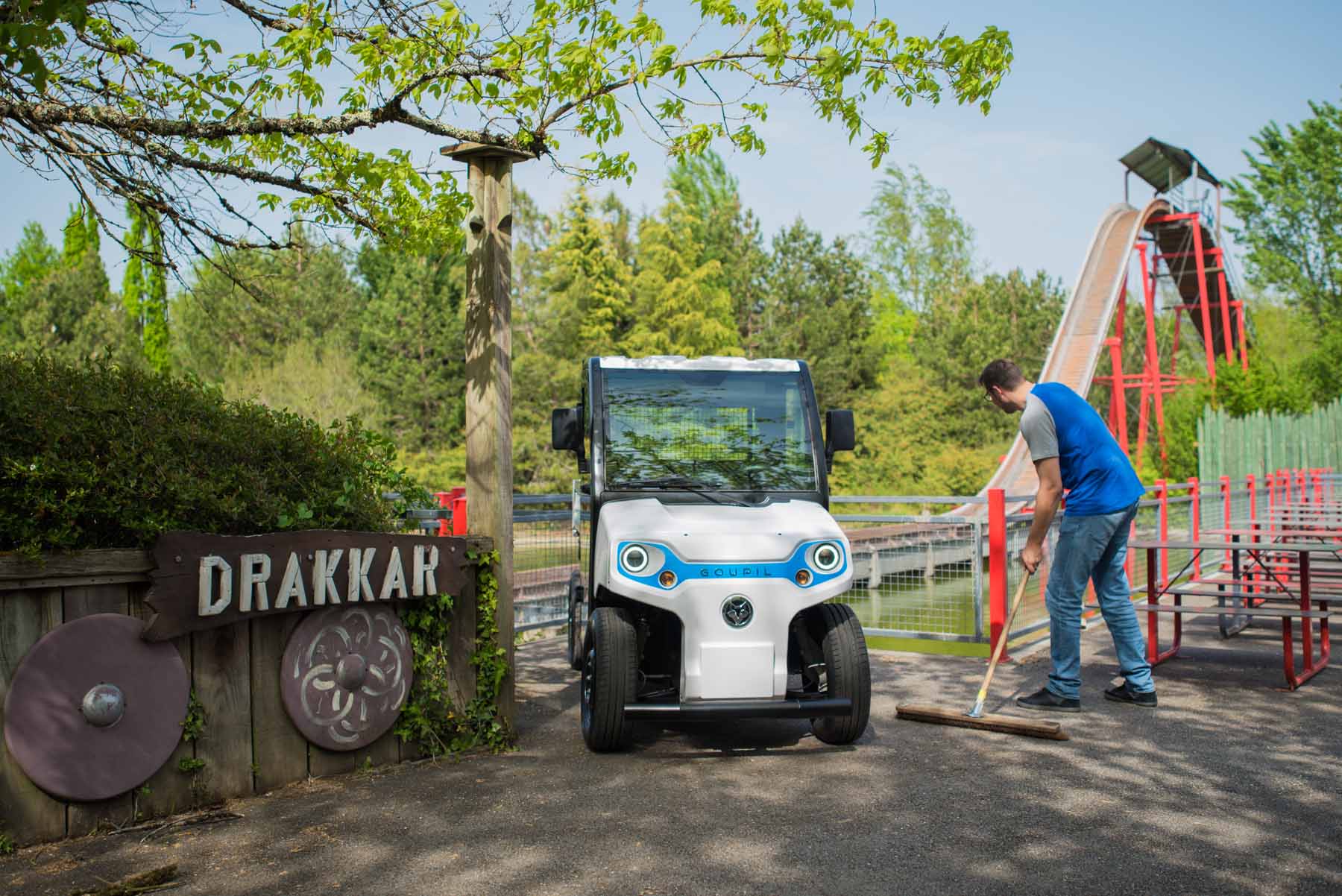 Small size, large capacity
Unrivalled on a vehicle of this size, the payload of the Goupil vehicles can reach 1,200 kg. Our vehicles can also accomodate high pressure modules containing up to 500 litres of water.
Proximity work
The utra-compact size of the Goupil vehicles is a huge asset to get as close as possible to the job site. Their narrow width also enables them to drive between parking bollards to reach public spaces.
Therefore, access to areas with street furniture (benches, playgrounds, public toilets...) is facilitated and their maintenance is easy. Cleaning agents can operate in crowded areas without causing any inconvenience. As for residents as well as visitors, they appreciate discreet and swift cleaning operations, particularly through the electric nature of Goupil vehicles.
Versatile and accurate
For other more specific tasks including the fight against visual pollution, Goupil vehicles can be fitted with a soda blaster. The agents can work directly from the pavement and therefore safely remove graffiti.
With the combined version, it is possible to equip the same chassis with a high-pressure module as well as a tipper or van body for maximum versatility.
For more than 15 years, Goupil has been developing tailor-made vehicles for our customers. We deliver a turnkey solution integrating the most efficient and innovative bodywork. Do not hesitate to contact our teams for a personalised study.