Although the Goupil concept was originally developed for urban cleaning applications and green areas maintenance, the philosophy has always been the same: enable smooth stop-and-go driving in crowded areas.
Last mile delivery has become an essential service in our daily lives.
whether it's food shopping, flowers, last-minute purchases or professional equipment, many customers make the most of the benefits of last mile delivery services to receive their order straight to their doorstep or workplace.
Expert in small utility trucks, Goupil offers a range of vehicles tailored for stop & go applications.
The compact dimensions of our vans make it easy to drive and park in city centres. As a result, delivery drivers are more efficient on their rounds.
The quiet nature of our utility vehicles allows for deliveries early in the morning or late at night without disturbing the neighbourhood and help improve the quality of life in residential areas.
In order to reduce the environmental impact of online shopping, last mile delivery stakeholders must find eco-friendly alternatives to fossil fuel-powered vehicles. This assessment is not only based on the consequences of last mile deliveries on the environment but also aims to ensure such businesses can last over time.
As global warming concerns rise, governments and local authorities are implementing low emission zones, where only "clean" vehicles are permitted to circulate without restriction.
Currently in place in a dozen cities in France, these zones will be extended to all conurbations with more than 150,000 inhabitants by 2025.
In the face of these challenges, transport and logistics businesses are looking for more sustainable means of transport for goods and parcel deliveries in urban and suburban areas.
Goupil offers the perfect solution with a wide range of 100% electric utility vans adapted to delivery operations.
From bicycles to delivery vans, the urban environment is changing! If you want to become a contributor in a sustainable future, do not hesitate to contact us for information on our products!
The benefits of electric technology for last mile deliveries
For more than 25 years, Goupil has developed innovative and tailor-made vehicles and equipment for a variety of businesses.
Our utilitly vans are particularly appreciated by last mile delivery stakeholders. Electrifying vehicle fleets offers many advantages for transport and parcel delivery companies.
Compact
The Goupil's compact size makes it the perfect partner for last-mile logistics. From heavy traffic in city centres to narrow streets difficult to access, the Goupil will snake in and out easily and facilitate parking for loading and unloading packages.
Clean
Thanks to Goupil, you can enjoy an eco-friendly ride while contributing to the decarbonisation of last mile delivery operations. By offering zero-emission deliveries, the environmental impact of the entire supply chain is considerably reduced.
Cost-effective
Last mile delivery represents a high percentage of the operating costs of the logistics chain. Choosing a fleet of electric utility vehicles will greatly lower your management costs, thanks particularly to fuel savings and reduced maintenance costs.
Image
More and more customers are opting for eco-friendly deliveries. Choosing a zero-emission vehicle for your deliveries will enhance the image of your business and promote your commitment towards the environment in the eyes of the customers.
Goupil, the ideal partner for last mile delivery
Goupil van bodies are cut out for last-mile logistics:
100% electric, they can be used for driving though low emission zones.
100% silent, they do not cause noise pollution for bystanders or residents when used early in the morning or in the evening.
100% customisable, the Goupil can be tailored to meet the needs of your business. The vehicle can also be customised to promote your business on the move.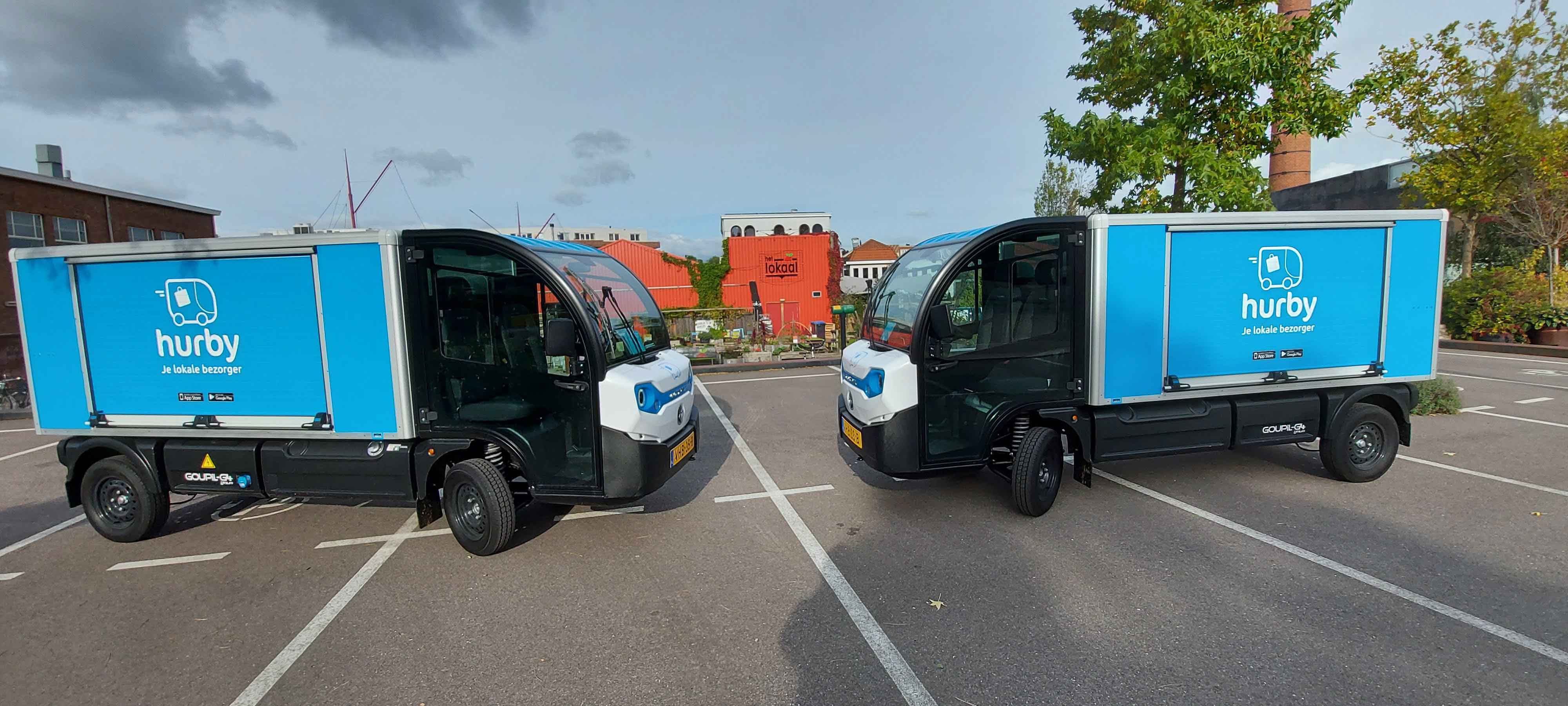 The delivery profession involves frequent stops. The ergonomic design of the cab makes it easy for the driver to get in and out of the vehicle, ensuring optimum comfort throughout the day. With a maximum range of almost 200 km (subject to battery capacity), your delivery drivers can carry out their delivery rounds with peace of mind.
Early users like DHL, FedEx or La Poste, to name a few, have quickly understood the benefits of using our compact and robust chassis to cover the last miles from their delivery hub.
The G2 and G4 van bodies are perfect for delivering small packages in town centres or residential areas: the 80 cm loading height makes it easier for the operator to pick up the parcels.
Thanks to the vehicle's short wheelbase, the driver can park close to the delivery point saving time and therefore improving the efficiency of their rounds.
Our G6 is ideal for transporting goods from a distribution hub on the outskirts of town. With a maximum speed of 80 km/h, it can travel without disrupting traffic flow. Available with a maximum volume of 9 m3, the G6 is cut out for transporting large parcels or goods. Loading operations with a forklift are made easier by the 45 cm loading height.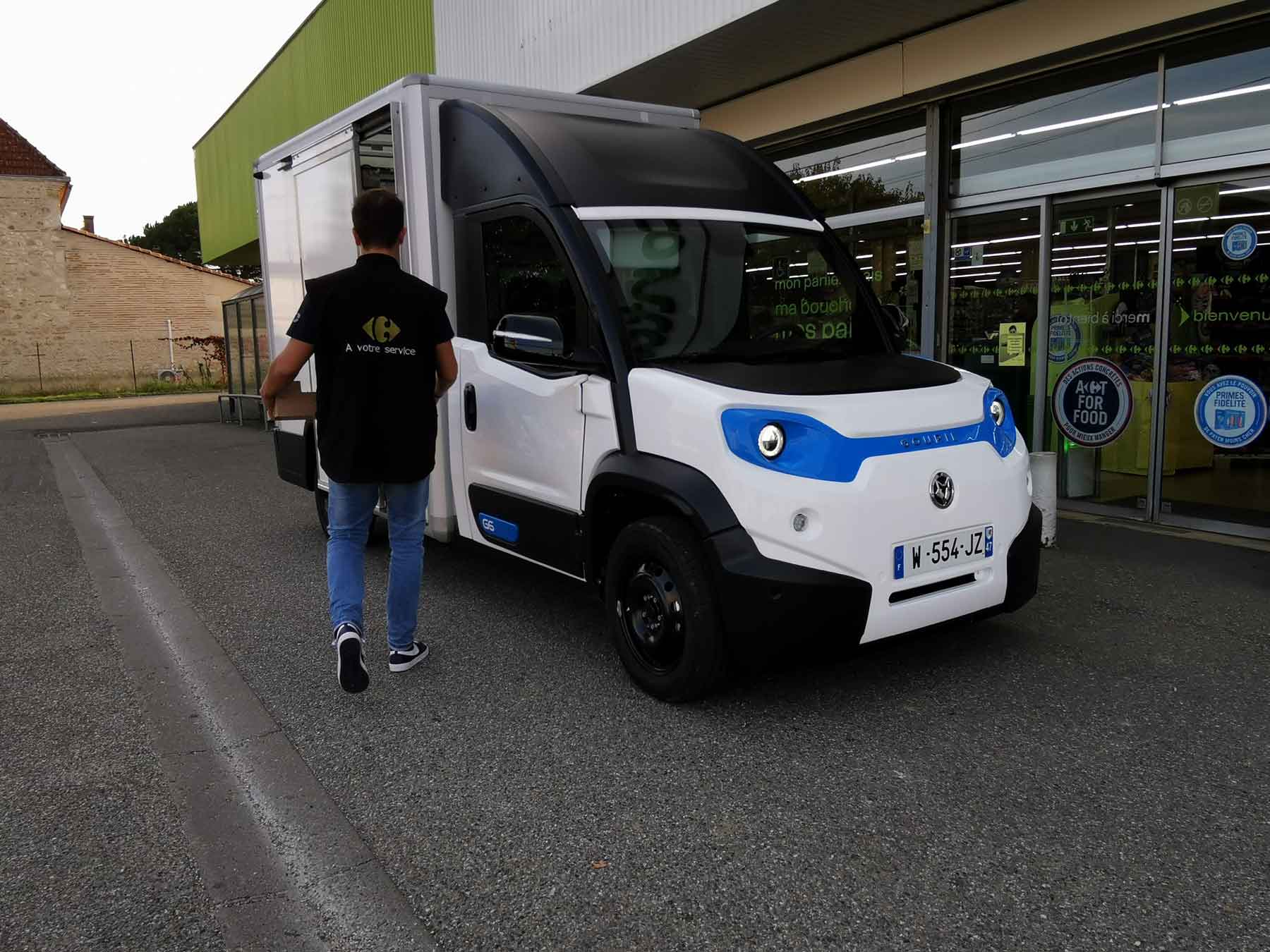 With the G2, G4 and G6, today Goupil can offer a complete range of electric vehicles for delivering parcels and goods in your area.
Specific body options for various applications
With the highest capacity-to-size ratio on the market, Goupil vans offer a loading volume from 1.5 m3 to 9 m3.
All our models can be fitted with lithium batteries with capacities ranging from 5.2 kWh to 28.8 kWh and a maximum range of nearly 200 km.
The lithium technology is particularly adapted to last-mile logistics thanks to partial recharging.
For example, any professional can use a charging point during their lunch break to partially extend the range of their utility van.
Business case: Picnic, the online supermarket
Since 2015, Goupil has been the exclusive vehicle supplier to Picnic, Europe's number one online food retailer. This partnership has enabled us to become a major player in last-mile delivery. Today, the Picnic fleet is made up of more than 3,300 G4 vehicles and over 300 G6 vehicles, emphasising the capabilities of our light vehicles for these demanding applications (3 rounds per day, each vehicle driving a total of 80 km per day).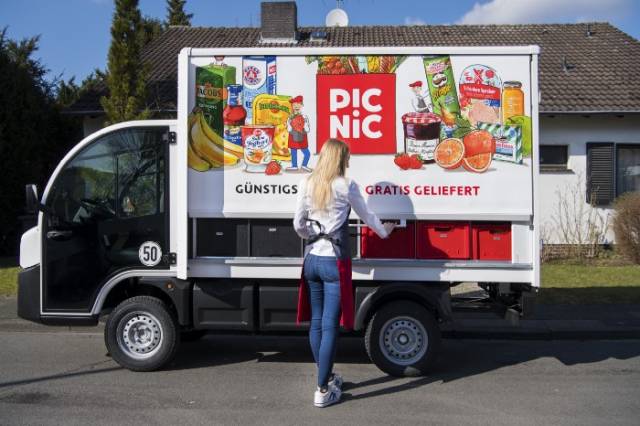 Expert in tailor-made solutions, Goupil offers various configurations depending on your activity and professional needs:
Specific dimensions of the van body or the openings,

Compartment boxes,

Refrigerated vans,

Tail gate...
At Goupil, we know that every customer is different and his needs unique. Our teams study every request and will recommend the best configurations for your business.
Our models are available for purchase or lease, with short or long-term rental options.
Our team is available for answer all your questions, so do not hesitate to contact us for more information on our products our services or to request a quotation!