Though the Goupil concept was originally developed for cleaning applications in urban areas and green spaces, the philosophy was always the same: allowing easy and quick stop & go's in crowded areas.
Why choose Goupil?
Electric and compact
The Stop & Go principle also applies to city distribution where efficiency and economics are always a concern. With the highest footprint/load capacity on the market, and by using rectangular box-vans with fully usable space and adapted loading height at waist level, Goupil offers as standard van bodies ranging from 1.5 m3 to 6 m3 capacity to fulfil all your needs.
EV One-stop shop
Early adopters (DHL, FedEx, La Poste to name a few) figured the benefits of using our compact and robust chassis from their city hubs/depots and today with the G2, G4 and G6, Goupil is the EV one-stop shop for all parcels and goods deliveries in your area.
Customer case: Picnic, an online supermarket
Since 2015, Goupil became a major actor in the segment by becoming the exclusive vehicles supplier of Picnic, European no 1 of online groceries distribution with over 1 500 G4 in operation today, and that emphasizes the alchemy of our light vehicle for such heavy applications (3 rounds per day, 2 ton of groceries delivered, driving up to 80 km in total per day per vehicle).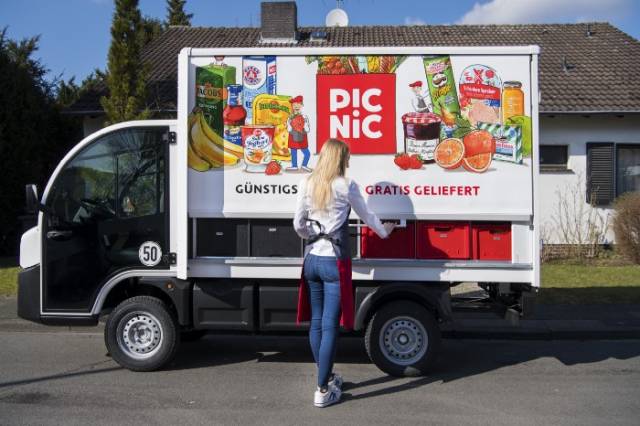 If that wasn't enough, Goupil develop customized solutions to accomodate your requirements:
specific box size or openings,
compartimentalized box,
refrigerated vans,
tail gate...
Do not hesitate to contact us for a customized study.