Goupil offers a great range of 100 % electric equipment for their vehicles, including the leaf collector.
Why choose the Goupil leaf collector?
Expert in electric equipment
Goupil specialises in 100 % electric equipment integrated to the Goupil G4 chassis. Our range includes the leaf collector, popular with many city maintenance teams. Being 100 % electric, it is far less noisy than the thermal equivalent (< 87 dB at 3 metres).
Practical
The leaf collector has been specifically designed for green areas or local council maintenance teams looking for an ultra-compact vehicle that can operate in city centres, parks and gardens or cemeteries. Goupil vehicles can easily reach restricted areas where traditional trucks do not have access to, to collect leaves previously gathered by your maintenance teams. Leaves can also be collected while driving with the agent working from the pavement.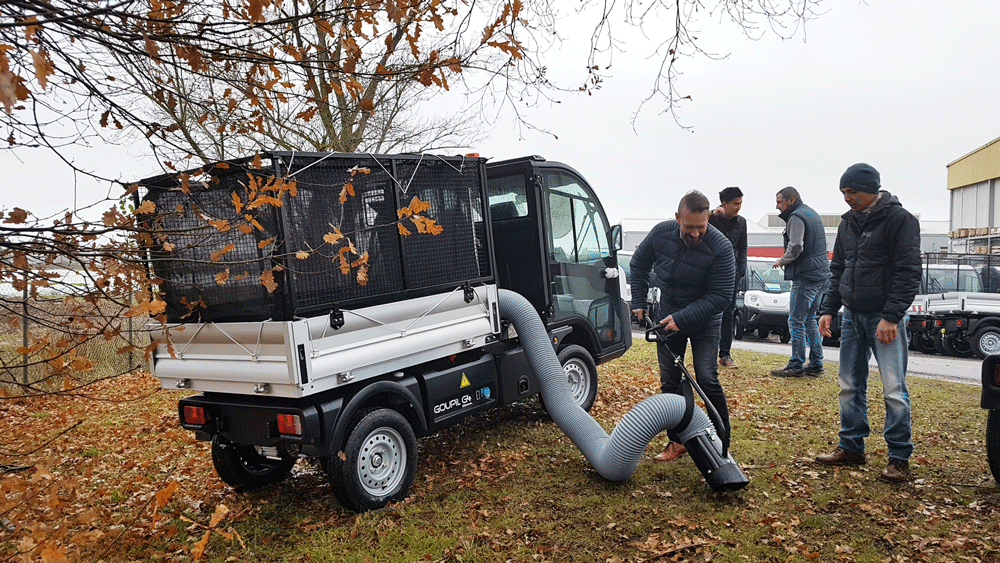 Combined version
The 100 % electric leaf collector is available on all combined chassis with load bed.
It is interchangeable with the high-pressure washer or the storage box, offering great versality depending on the season. The leaf collector option includes a netting with self-adhesive straps and specific front gate.