With their sturdy and ergonomic design, many industrial sites, holiday resorts or theme parcs use our 100% electric utility vehicles for the management of their facilities.
Why choose Goupil for your company's operational management?
The Facility Manager holds a versatile role in the company requiring an equally versatile small utility vehicle. Goupil provides a suitable and environmentally friendly mobility solution with its range of utility vehicles tailored for Facility Management services.
From equipment tracking to green space maintenance and supply inventory management, our vehicles are equipped to support your technicians in various maintenance tasks on your site.
5 reasons to adopt Goupil's 100% electric utility vehicles to handle maintenance activities on your premises:
Clean and silent electric utility vehicle suitable for indoor use
Compact-sized vehicle ideal for industrial maintenance activities
Versatile small utility vehicle thanks to a wide range of equipment
Cost-effective solution: reduces operating and preventative/curative maintenance costs
Ergonomically designed small utility vehicle providing a comfortable and safe work tool for technicians in the field
The responsibilities of the Facility Manager and his teams cover all of the operations essential to the smooth running of businesses: maintaining facilities, equipment and machinery, electrical installations (heating, air conditioning), and upkeeping outdoor areas.
As a profession with diverse and varied functions, the Facility manager is at the heart of the operation. He is responsible for planning preventative maintenance activities, and his team must be able to move around the entire site at any time, in case of emergencies.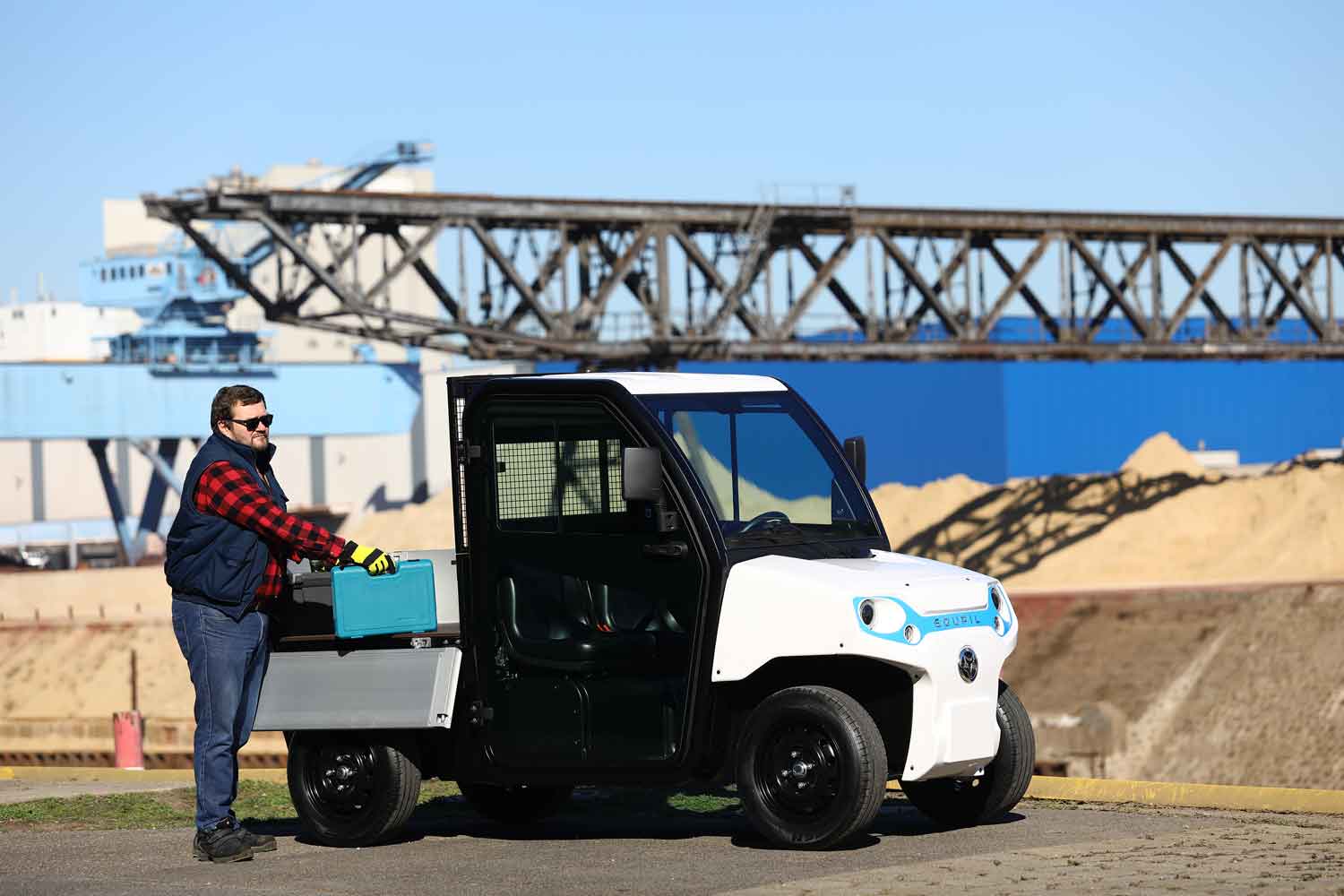 Goupil offers a suitable option with numerous advantages for your industry:
Cost-effective
Our utility vehicles provide cost-effective solutions for your technicians' on-site transportation needs. Replacing small gasoline or diesel engine vehicles with our electric trucks contributes to reducing maintenance costs and improving energy efficiency on your site.
Additionally, all our vehicles are approved for on-road use.
Comfort
Whether you are responsible for maintaining an industrial facility, a healthcare institution, or an amusement park, the size of the infrastructure is extensive and requires covering long distances. Being 100% electric, Goupil vehicles provide significant advantages for your teams' comfort: no vibrations, automatic transmission, and quiet operation.
Image
Choosing Goupil electric utility vehicles will also enhance your image by demonstrating your commitment to sustainability to your employees, suppliers, external partners, and visiting customers. It makes your dedication to environmental responsibility visible and commendable.
A small utility vehicle with remarkable capabilities
Compact and easy to handle, the Goupil facilitates manoeuvres in tight spaces and allows operators to get as close as possible to where they are needed. Your technicians can perform maintenance tasks on your production lines, within holiday resorts, or navigate hospital or airport corridors safely without obstructing staff or visitors.
Unmatched in an electric utility vehicle of this size, our Goupil vehicles offer a loading capacity of up to 1,200 kg, making them ideal for transporting maintenance tools or parts for troubleshooting machinery or various installations within your company.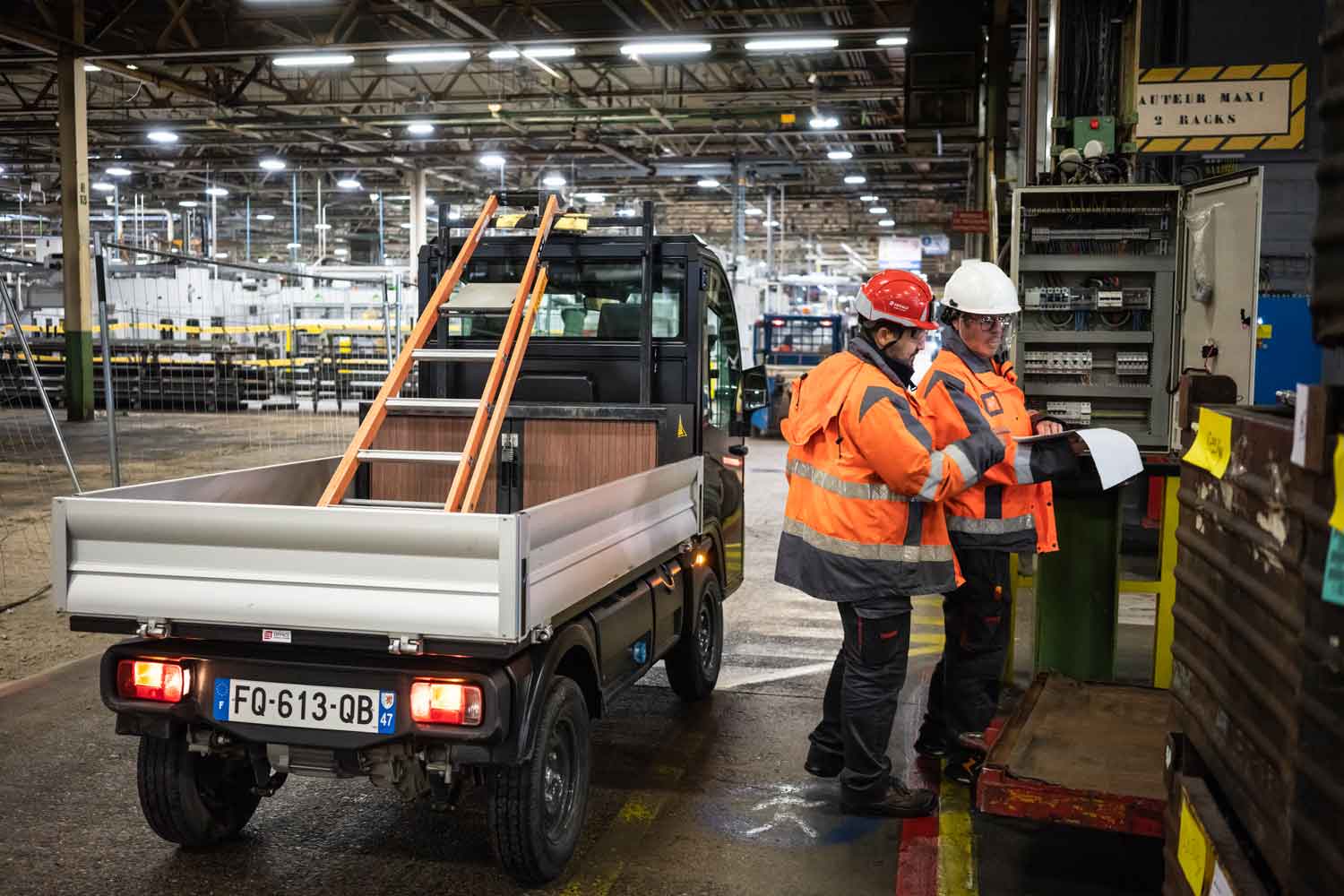 Fitted with 21 kWh batteries, our Goupil G4 vehicles have a range of nearly 200 km. All our models are available with lithium batteries, a technology that allows for partial recharging of the battery when needed.
Configurations tailored to your profession
Thanks to its sturdiness and ergonomics, the Goupil small utility vehicle is highly regarded by professionals in the industrial, healthcare, and leisure sectors. Our range offers field engineers more than just a means of transportation: it provides a versatile working partner perfectly suited to Facility Management.
Various equipment and accessories are available to meet the needs of your activities:
Load bed for transporting equipment and spare parts for machine and equipment repairs at your site,
Tipper for waste management, green space maintenance, or facility cleaning,
Available with a converted or standard van body, Goupil vehicles turn into mobile workshops for the maintenance of your facilities.
Goupil, expert in tailor-made solutions
Since 1996, Goupil has always strived to offer their customers more than just a vehicle. Our team works every day to design equipment that meet the specific needs of businesses. This approach has led us to collaborate with bodybuilders to offer increasingly efficient and innovative equipment tailored to the various professions within Facility Management.
Below are some examples of configurations developed through these partnerships:
Load bed with tail lift for transporting laundry rolls in holiday resorts or hospitals,
Lifting crane for safe handling operations,
Load bed with aerial work platform for work at height.
Explore related solutions for Facility Management