The G4, G6 or G2 models offer tailor-made solutions for the collection of bins, bulky items, organic or household waste.
The challenges related to waste management are the same for local councils, industrial sites, airports, resorts or healthcare establishments. From garbage collection to waste transportation and overseeing recycling, professionals in the sector require robust and efficient trucks.
The stakes are high for waste management businesses: climate concerns demand a switch from fossil fuel utility vehicles to more sustainable means of transportation. Garbage trucks, many in number and essential to the smooth operation of our society, cover many kilometres every day: what if this fleet are turned emission-free?
Aware of the issues and expectations of the business sector, Goupil offers a wide selection of electric utility vehicles for garbage management operations. Available for purchase or rental, they contribute to a more sustainable environment.
Why choose Goupil for waste management operations?
Every year, tons of waste are collected in towns, on industrial sites, in tourist establishments, and more.
In a society where environmental issues shape our daily lives and change our consumption habits, why not choose an environmentally friendly utility vehicle for waste management?
The Goupil range meets the requirements of your trade, regardless of your business activities:
Clean vehicles offering an eco-friendly solution for the collection and transport of any type of waste,
Our trucks are silent enabling collection operations at any time of the day or night without any noise pollution,
Compact and easy to handle, the Goupil's facilitate access and manoeuvres in restricted spaces,
Thanks to their small wheelbase, our trucks do not obstruct the flow of traffic for cars and pedestrians, staff, or visitors to your site.
100% electric, Goupil utility vehicles help reduce the costs of managing your vehicle fleet.
Whether you're in charge of maintaining public roads, green areas or responsible for waste collection operations in a public or private organisation, we have the mobility solution adapted to your business.
Goupil electric trucks are particularly suitable for waste collection:
Eco-friendly
Where gas-powered vehicles burn a lot of fuel and generate exhaust fumes, including gases and particles, Goupil vehicles do not pollute thanks to their electric motor. This technology enables them to operate without restriction in low emission zones.
Versatile
Our wide range of equipment offers solutions for the management of various kinds of waste, including the collection of household garbage, organic waste, as well as bulky waste.
Cost-effective
While purchasing a vehicle certainly represents a significant investment, going electric helps reduce the maintenance and operating costs of your fleet: no more fuel cards and lower maintenance costs.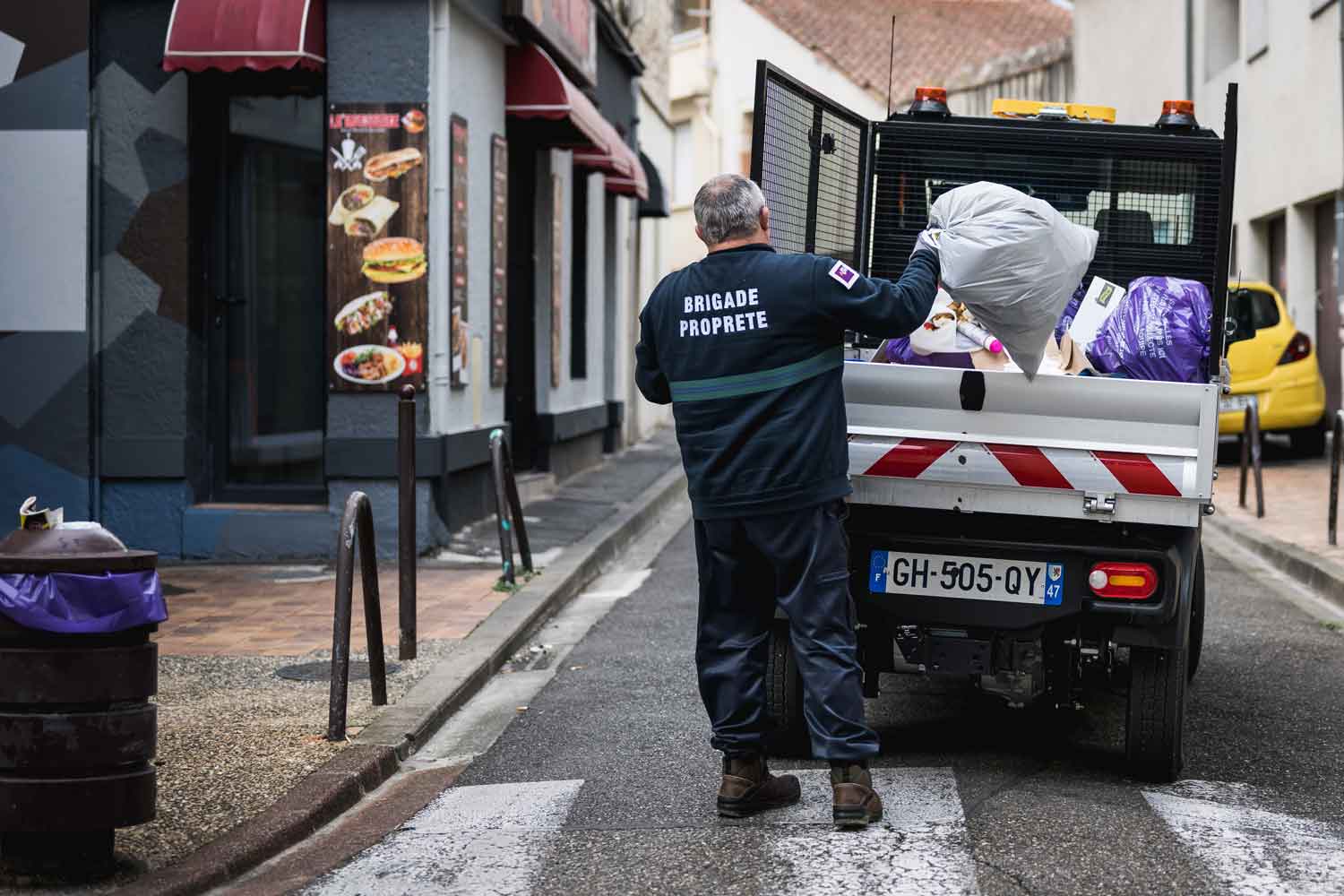 A small utility vehicle with remarkable capabilities
Goupil trucks are perfect for collecting waste in cities as well as residential areas. Council workers operate early in the morning: with a Goupil, they can do so without causing any nuisance for pedestrians or residents.
Our vehicles are built from the ground up to ensure safe waste collection operations. The ergonomic design of the cab is ideal for getting in and out frequently, providing a comfortable working environment for your staff and facilitating their work.
The spacious cab can accommodate up to 3 people and comes with numerous storage spaces. It offers excellent visibility for the safety of both council workers and pedestrians.
Goupil vehicles are highly manoeuvrable thanks to their compact size and short turning radius. This makes them well-suited for navigating through narrow streets and confined spaces, resulting in more efficient and faster collection operations.
Access to town centres is getting more and more restricted for fossil fuel-powered vehicles, especially with the implementation of low-emission zones. Our refuse collection vehicles, being 100% electric, are not affected by these restrictions. Emission-free and silent, they help improve the quality of life in urban and suburban areas.
Goupil trucks are also used for waste management on construction sites or industrial facilities. With a cargo capacity up to 1,200 kg, they are perfectly suited for the collection and the removal of rubble of bulky items.
Our vehicles have a range of up to 200 km, depending on the model. For applications that require a higher range, lithium batteries enable partial recharging. This technology is available on all our vehicles.
Configurations tailored to your profession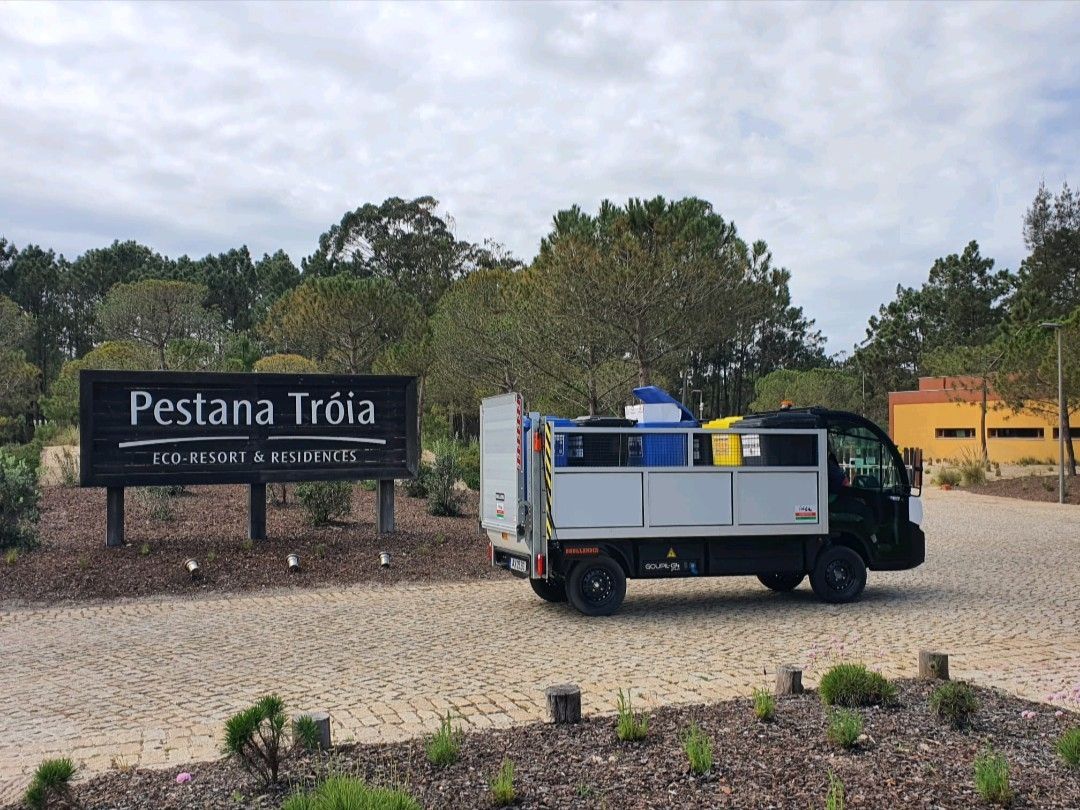 Goupil is an expert in neighbourhood electric utility vehicles. Founded in 1996 and based in the Southwest of France, we offer a wide selection of utility trucks with various equipment for waste management.
More than just a vehicle, we offer a solution that meets the requirements of your profession.
Our most popular configurations for waste management include the following equipment which have become best-sellers in the range:
The aluminium waste collector with side dropdown doors

: a compact sized truck ideal for collecting waste in city centres or on closed sites. It features a hydraulic system for lifting the skip, facilitating waste disposal.

The steel tipper truck with cage body and net

is a cost-effective and versatile solution, favoured by municipalities for maintaining public roads and green areas.

The cargo bed with tail-lift

is well-suited for container transport.
Goupil, expert in tailor-made solutions
Goupil uses its innovation capacity to design original solutions catering to a wide array of projects.
If you cannot find the right configuration for your business needs in our catalogue, do not hesitate to contact us.
Our Research and Development department studies every request in order to provide a tailored solution, and a price quote will be sent to you promptly.
Our customers' needs lie at the core of our product development plan and their feedback has resulted in the development of turnkey solutions that enjoy widespread approval among our clientele.
Goupil also partners with bodybuilders to develop specific equipment fitted onto the chassis of its vehicles.
Our offer of bespoke solutions includes models for waste management:
The refuse collection vehicle with bin lifter and shovel has been developed in partnership with FAUN. This vehicle is ideal for collecting waste in large cities.

The G6 with hydraulic hooklift and container is the result of a partnership with DALBY. This utility vehicle is perfect for local authorities. With multiple containers, it becomes the ultimate versatile truck: it can be used simultaneously by green space workers for collecting organic waste, by cleanliness service staff for bulky item collection, and by public works services for rubble disposal.
The recycling truck, built on our G6 chassis, was developed by our distributor in Spain. These vehicles operate in the streets of Barcelona for the collection and sorting of many tons of waste each year.