Success story: Goupil and the city of Bern
November 10, 2022 - EV
After the G3 and G4, Bern renews its confidence in Goupil and welcomes 2 G6 vehicles into their fleet.
Fitted with a hooklift system, the G6 has proven to be a successful working partner for the city's maintenance teams.
Ground maintenance teams are going green with Goupil's electric utility vehicles
The relationship between Goupil and the city of Bern started 10 years ago. In 2012, they bought a Goupil vehicle in a move to replace some of their diesel-powered trucks with clean and sustainable utility vehicles.
Their first vehicle was a G3, predecessor of the G4, the most versatile model in the range.
This purchase marked the beginning of a fleet of Goupil vehicles, including G4's and more recently, 2 G6 vehicles equipped with a hooklift for loading and unloading mobile containers.
We met with the maintenance teams in Bern who are very satisfied with our products.
Flavio Zurbrügg, landscape gardener, uses our vehicles every day and shared his experience with us: "The Goupil utility vehicles are real work tools, totally adapted to our needs, compact and maneuverable. As they are silent, we can work in the city centre near houses, even early in the morning, without disturbing the residents."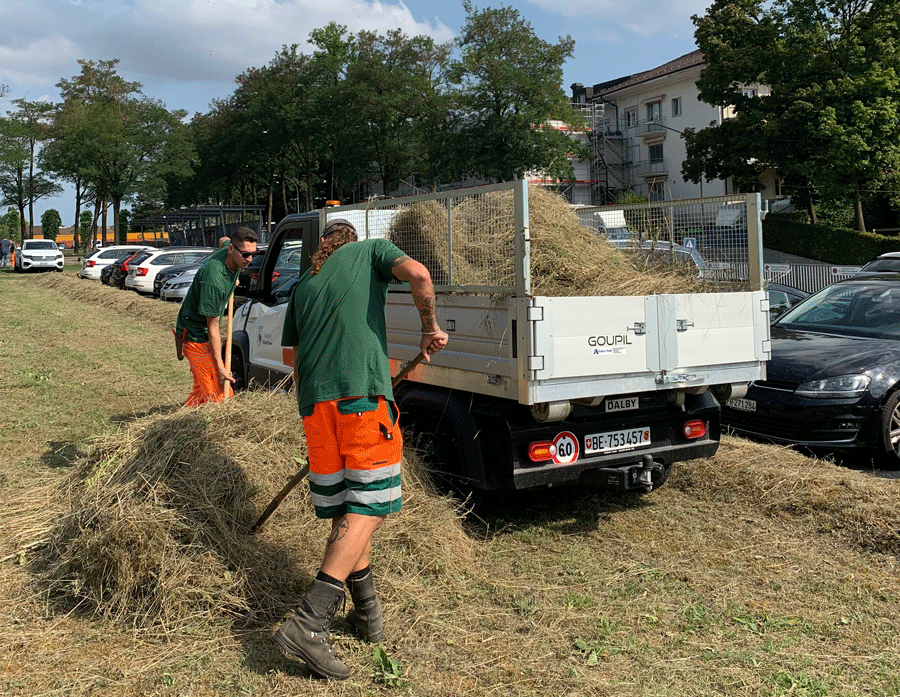 Goupil vehicles are used every day for the maintenance of green spaces and cemeteries for moving soil, collecting green waste (branches, leaves...), transporting chain saws, ride-on mowers and various tools such as shovels, brooms, rakes…
They are also used for watering plants and flower beds thanks to a tank fitted on the load bed.
The Goupil G6: an exceptional working partner
After the success of the G4, the Goupil G6 launched in 2020, offers new levels of comfort to efficiently support users in their daily work: a spacious 3-seater cab, a maximum speed of 80 km/h as well as a comprehensive set of standard equipment: LCD HD colour display, practical storage compartments inside the cab, electric windows and heated side mirrors, power steering, etc.
The vehicle has been designed to offer flexibility for coachbuilders' options: the G6 with hooklift was born from a partnership between Goupil and Dalby, two companies based in the Southwest of France.
Focus on the hooklift system
The G6 with hooklift is particularly aimed at green space services. By multiplying the number of mobile containers, the G6 can transport and deposit tools or collect waste without interrupting the work of the agents.
Flavio Zurbrügg explained how this configuration has changed the daily routine of the green areas' teams: "Currently, we have two G6 vehicles with this type of equipment. This configuration is ideal for us because we have several containers that are easily interchangeable. As a result, we gain a lot in versatility and productivity."
Flavio went on to say: "In today's vehicle landscape, Goupil has a real strength: as a pioneer in electric utility vehicles, the brand has in-depth knowledge in the development of easy-to-operate, maneuverable and reliable vehicles, which serve as working tools for us."