I veicoli elettrici Goupil sono assolutamente adatti all'industria del turismo. Tipicamente utilizzati per il trasporto di attrezzature o persone, offrono un'alternativa ecologica e silenziosa ideale per i siti turistici.
I vantaggi dei veicoli elettrici nel settore del turismo
Un numero crescente di complessi dedicati al tempo libero si rivolge ai veicoli elettrici. Questa scelta si basa su diversi vantaggi:
Ecologia: i nostri veicoli elettrici non emettono CO2, contribuendo così al mantenimento di un ambiente più pulito

Design confortevole: i veicoli Goupil sono molto silenziosi, riducono notevolmente l'inquinamento acustico e offrono ampio comfort ai clienti. Le squadre di manutenzione possono lavorare la mattina presto o la sera tardi senza disturbare i turisti.

Immagine: le strutture turistiche che scelgono i veicoli elettrici promuovono un'immagine positiva del brand, mostrando quotidianamente il proprio impegno per favorire uno sviluppo sostenibile.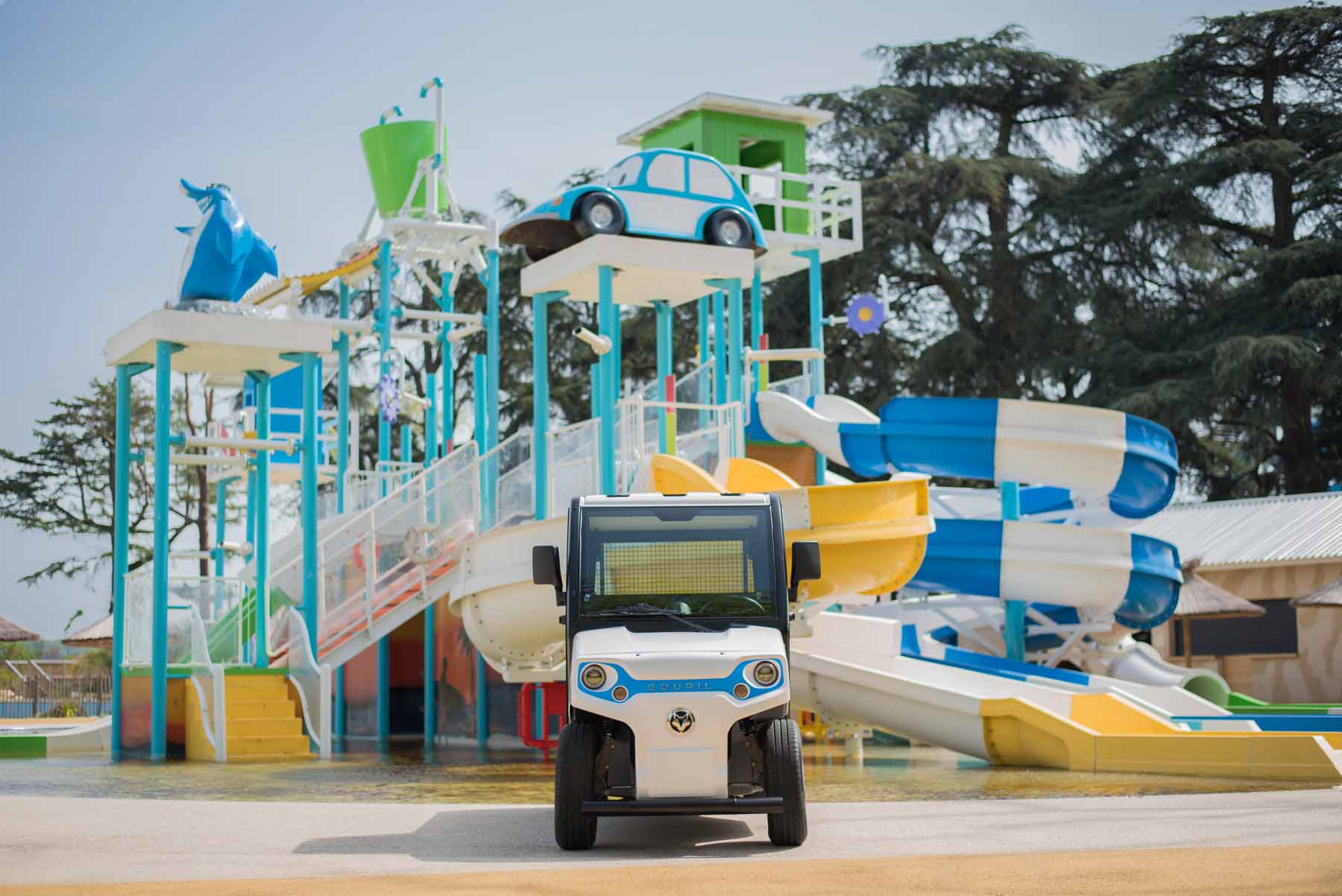 Perché scegliere Goupil per il settore turistico?
I nostri veicoli Goupil vengono realizzati su misura per soddisfare le esigenze delle infrastrutture turistiche. Per ciascun tipo di utilizzo, proponiamo una configurazione specifica che supporterà l'operatore in modo efficiente durante lo svolgimento del lavoro.
I nostri team saranno disponibili per assisterti nella scelta della configurazione e della carrozzeria perfette in base alle tue attività commerciali. La nostra vasta gamma di allestimenti offre una soluzione versatile o molto specifica per ogni attività di lavoro.
Alcuni esempi delle configurazioni più diffuse nel settore turistico:
Eco-friendly
Environmental issues are at the forefront of society's concerns as citizens' awareness of climate change is growing. Our vehicles do not emit any CO2 during use, therefore participating in a cleaner and more sustainable future.
User-friendly
The quiet nature of our Goupil's means that noise pollution is considerably reduced. As a result, your customers are more comfortable during their stay. Maintenance staff can work at any time of the day or night without disturbing tourists.
Cost-effective
Opting for an electric fleet helps reduce management costs compared to a fleet of combustion engine vans: fuel savings, reduced maintenance (fewer moving parts), etc.
Financial incentives on behalf of the government when purchasing an electric vehicle, as well as the advantages offered by insurance companies favour the development of electric technology.
Image
Businesses in the tourism industry are electrifying their fleet and thereby demonstrating their day-to-day commitment towards the environment.
Investing in 100% electric vehicles or rechargeable hybrids is a winning strategy: resorts that choose to decarbonise their fleets see their reputation grow and their image improve.
Goupil, the perfect partner for your tourism facility
Do you own a campsite? Are you managing a holiday resort? Are you responsible for an amusement park?
With a payload of up to 1,200 kg, Goupil trucks will support you in the daily tasks or your business: transporting luggage or people, maintenance or cleaning operations, moving equipment…
Fitted with low pressure tyres, our G2 and G4 models can be used on grass for upkeeping sports fields or other green areas.
They can also drive on sand for moving deck chairs and sunshades on beaches or for surveillance operations.
100% electric, they can move all over the facilities without disturbing the peace and well-being of tourists.
Compact and nimble, they snake in and out of the smallest spaces, even inside buildings, for all service and maintenance operations.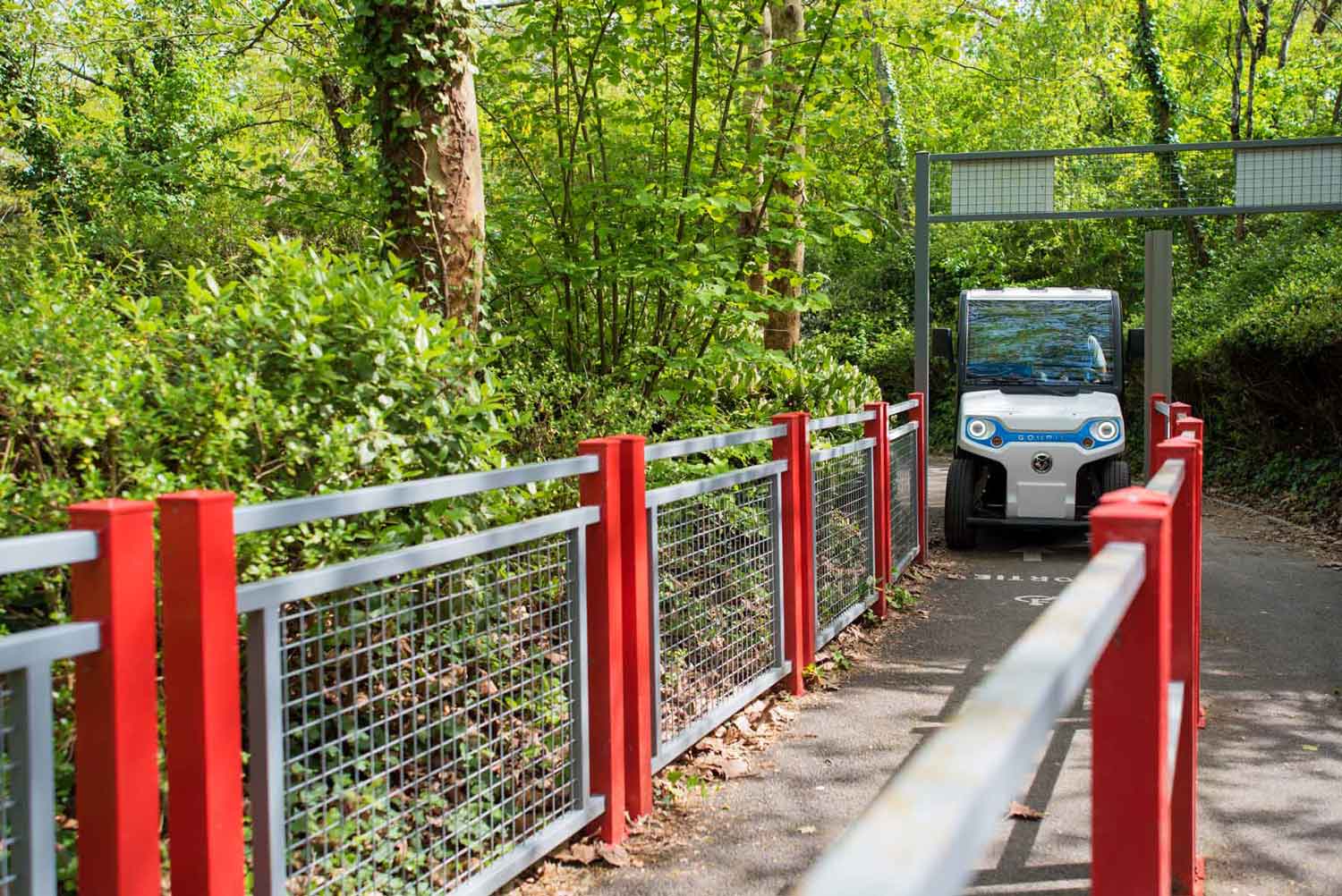 Our offer includes various batteries, with capacities ranging from 5.2 kWh to 28.8 kWh (with lithium technology) and offer a maximum range of nearly 200 km.
The lithium technology enables partial recharging of the battery, increasing the vehicle range when needed.
Our G4 and G6 models can be recharged using a domestic socket or charging stations. With the increase in electric cars and utility vehicles, the number of charging points are fast-growing.
Fitted with a van body, the Goupil G6 offers a volume of up to 9 m3. With a maximum speed of 80 km/h, this configuration is ideal for shuttling equipment or food products.
Specific body options for various applications
Goupil electric vehicles are cut out for the needs of the tourism industry. For every application, we offer a customised solution to efficiently support you in your job.
Our load beds are fitted with removable and detachable gates, with optional cage bodies to increase the loading volume.
Goupil load beds are particularly appreciated for their versatility: within minutes, they can be fitted with a watering system for the maintenance of your green spaces.
With the combined version, a high-pressure washer, leaf blower or a storage box can be fitted at the rear of the cab.
This great modularity makes it a model perfectly suited to the numerous operations required for the proper management of a tourist site: transportation, cleaning, watering, etc.
Our offer includes specific configurations for waste management: skip with side dropdown doors for collecting bins on campsites.
Our G6 refuse collection vehicle with bin lifter is perfect for zoos or amusement parks.
Our teams will be available to assist you in choosing the perfect layout and bodywork depending on your business activities. Our broad range of equipment offers either a versatile or very specific solution for every activity.
Goupil is an expert in tailor-made solutions and offers configurations dedicated to tourism applications such as the converted van body for collecting and sorting clean and dirty laundry.
Our range also includes load beds with column lifts to facilitate the handling of trolleys or roll containers.
Whatever your need, we can offer a suitable solution!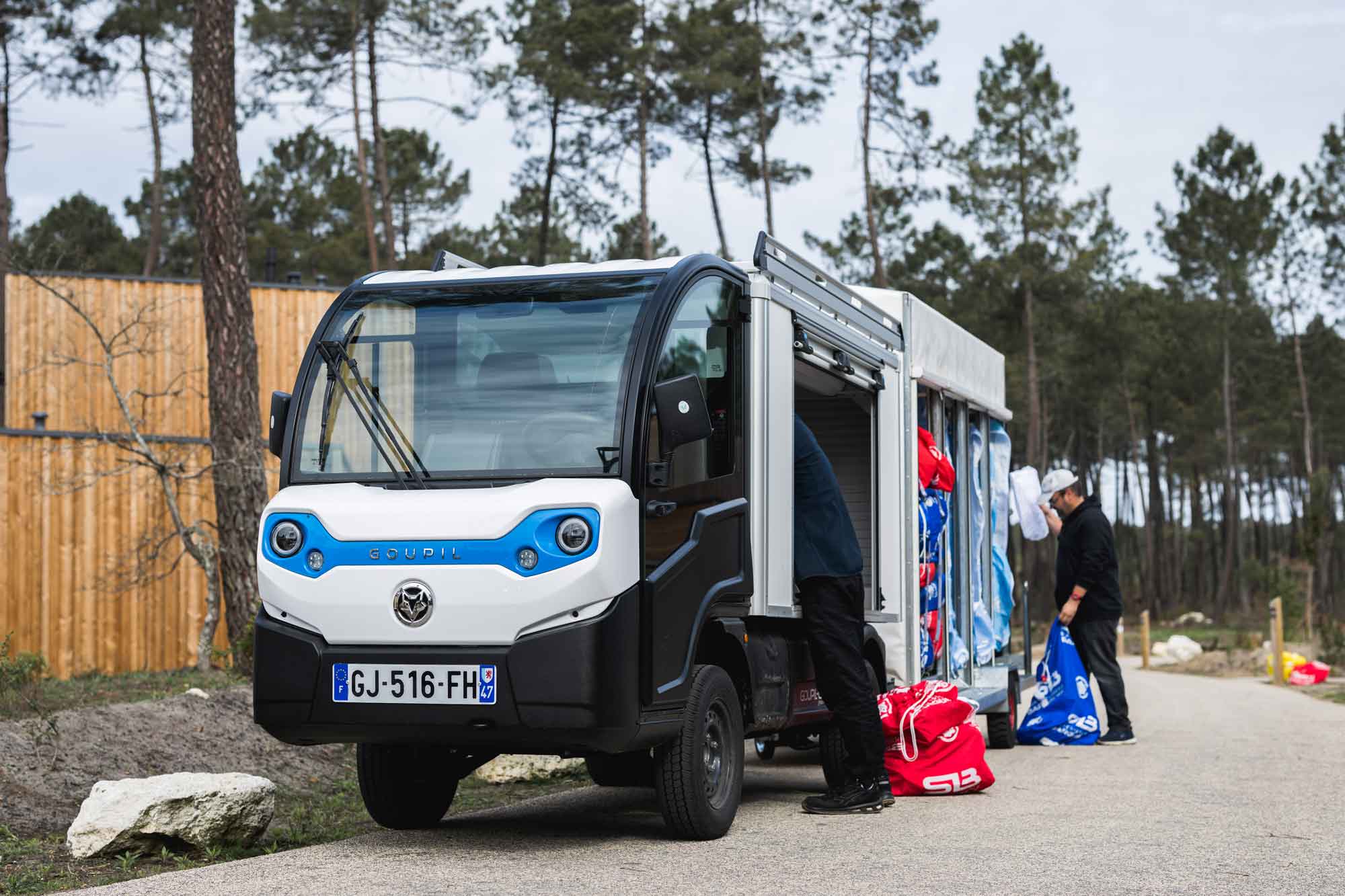 With over 25 years' experience, Goupil has made a name for itself in France and abroad as an expert in neighbourhood electric utility vehicles. Since 2011, the company has been part of the Polaris Group, leader in recreational all-terrain vehicles.
Our vehicles are available for purchase or lease, with short or long-term rental options. Please contact your local dealer for more information or to request a quotation.