The unprecedented framework of the Goupil G6 chassis is ideal for integrating turnkey solutions such as the hooklift with container developed in partnership with DALBY. This equipment is popular among city maintenance operators for the upkeep of parks and gardens and/or waste collection in town centres or suburban areas.
Why choose a Goupil fitted with a hooklift?
The G6 with hooklift and container is an essential utility vehicle for businesses looking for a versatile and efficient work tool.
Whether you are responsible for the maintenance of public areas or running a business in the construction industry, the G6 with hooklift is the ideal solution for transporting your equipment, maintaining green areas, collecting green waste or moving rubble.
100% electric, the Goupil G6 meets the environmental standards for access to low emission zones. Operating in town centres has never been easier and will not cause any inconvenience to residents or bystanders.
With a maximum speed of 80 km/h, you can drive through suburban areas without impeding the flow of traffic.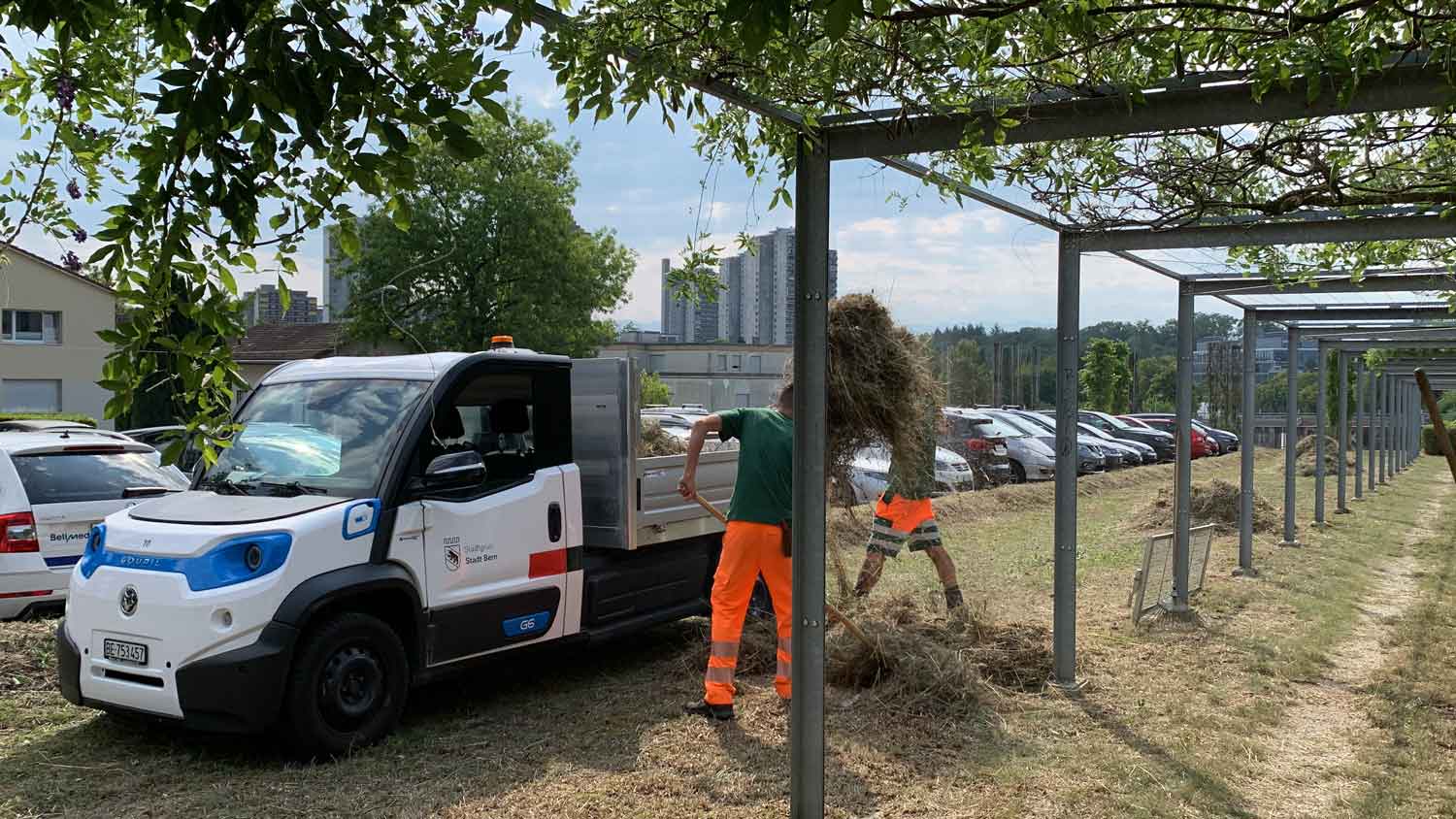 One vehicle for various applications
The G6 with hooklift is a work tool with endless possibilities: ride-on mowers, grass trimmers and other equipment can be transported in the movable skip directly to the job site.
For tasks such as maintaining green areas, where organic waste needs to be removed, the container can be unloaded and picked up later in the day. The ergonomic design of the skip enables easy and safe dumping.
The mobile containers can also be customised and fitted with equipment such as watering systems or high-pressure washers.
Opting for several containers will allow you to unload them on various and increase the profitability of your utility vehicle: while some operators are busy tending to green areas, others can maintain the premises of your various infrastructures.

With multiple containers, one Goupil G6 can carry out the work of several utility vehicles.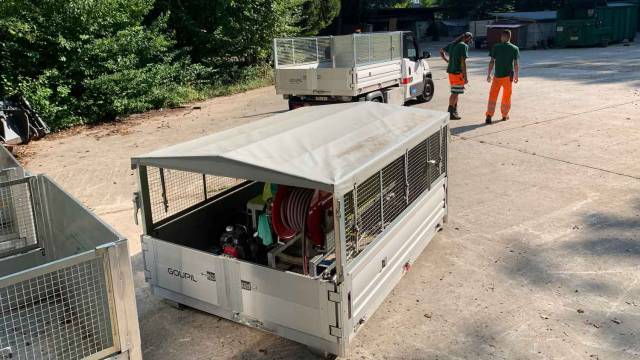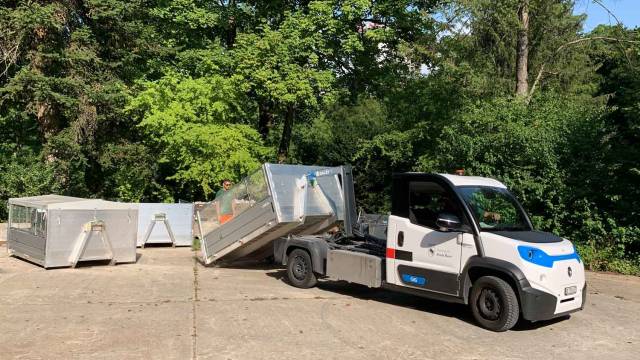 A safe and efficient work partner
Safety
Available on the G6, the best performing model in our range, the Goupil with hooklift system has been developed in partnership with DALBY a French manufacturer also based in the Southwest of France.
Easy to operate, the hooklikt enables safe and swift loading and unloading of your containers:
Warning device during the loading and unloading process,

User-friendly hooklift system with cab mounted controller on wander lead with indicator light.
With a G6 with hooklift, you are simplifying and optimising your daily logistic operations. More than just a vehicle, the Goupil with hooklift is an actual work tool.
Adaptive
The skip is fitted with aluminium dropdown and detachable sides and a rear swinging double gate, ideal for unloading machines, bulky tools or construction material…
For the transport of organic waste, the container can be fitted with a cage body, increasing the loading volume.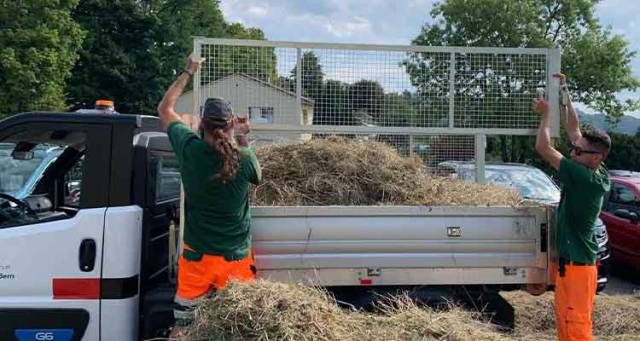 Business case: the city of Bern in Switzerland
For over 10 years, Bern's ground maintenance teams have been using Goupil vehicles every day. They have recently purchased 2 G6's with hooklift system for the upkeeping the city's green areas and cemeteries.
In total, 6 containers are available for the various maintenance teams and allow for council workers to operate simultaneously on various sites. Some containers have been fitted with watering or high-pressure washer systems, or leaf mulchers.
Our teams were able to meet with Flavio, landscape gardener, who testified to the improvement in their daily routine thanks to the Goupil trucks: better and more comfortable work environment, more versatily and increased productivity make the G6 with hooklift system a real hit with the people from Bern.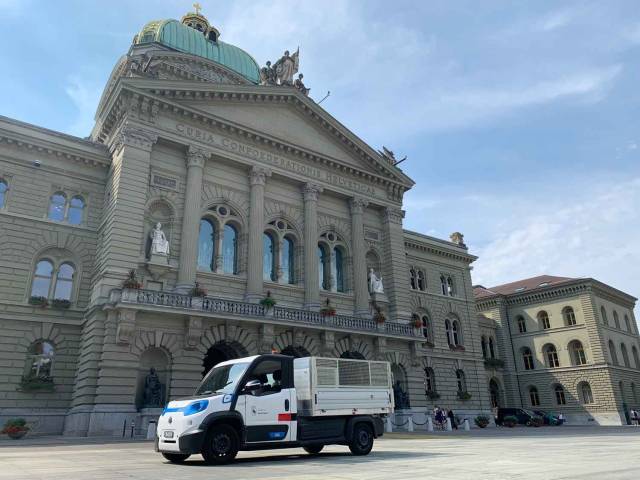 Fill in this form for more information.