Load bed with column lift
Due to their robustness and ergonomics, Goupil 100% electric vehicles are ideal for integrating handling aids such as the column lift.
Why choose a Goupil load bed with column lift?
Transporting heavy or bulky items is part of the health and safety regulation challenges maintenance managers are faced with every day. By choosing a load bed equipped with a column lift, you ensure manual handling operations are less physically demanding for your operators.
The column lift is directly connected to the vehicle battery, therefore maximizing the payload available on the load bed.
Goupil G4 and G6 load beds with column lift are popular with many customers: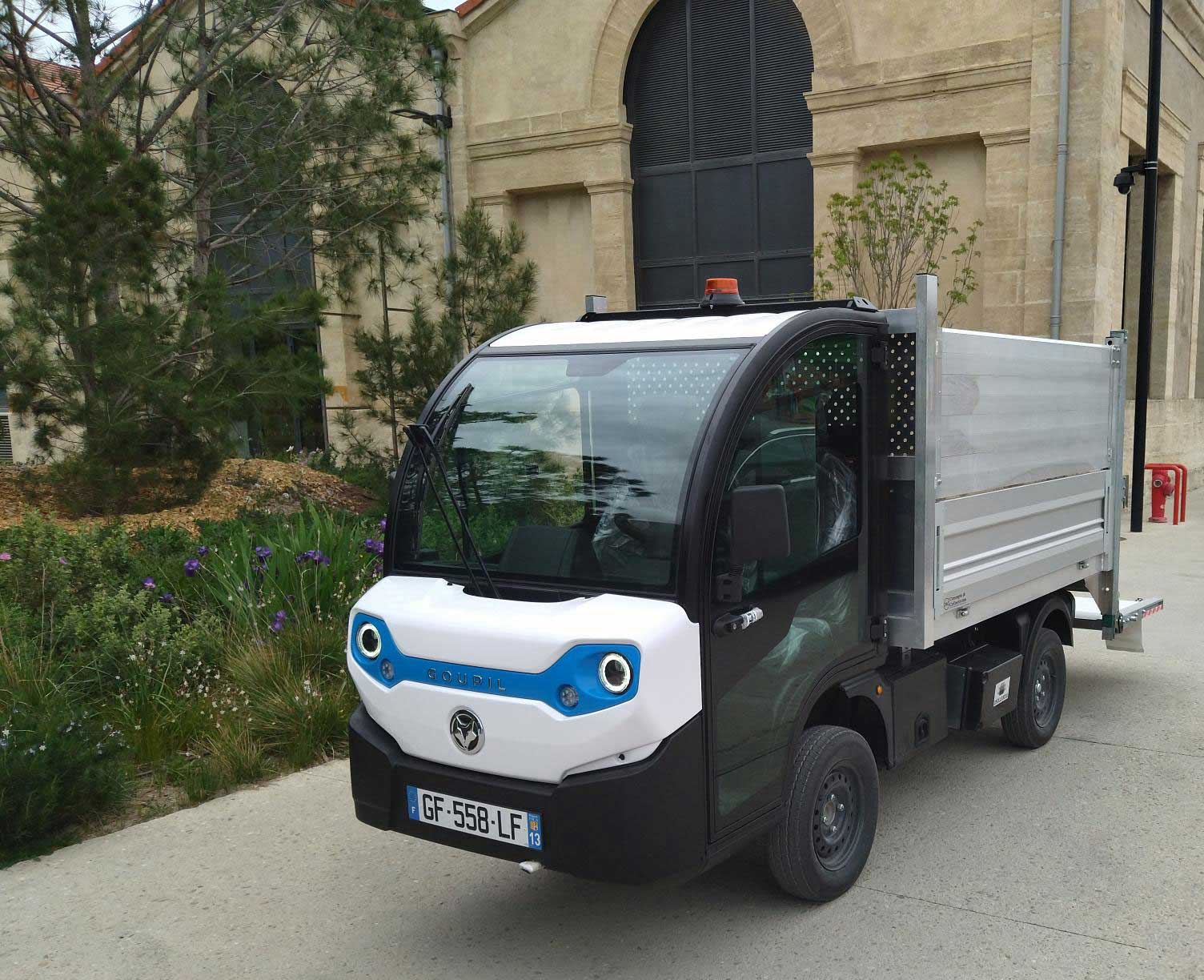 The perfect combination of efficiency, safety and ergonomics
By combining the versatility of the Goupil load bed with the expertise of DHOLLANDIA, Europe's leading manufacturer of tail lifts, you offer your teams optimal working comfort.
The loading and unloading of goods are made easier and the operation is simplified by the wired remote control, which allows you to control the lifting and lowering of the platform in complete safety, even during operations on public roads or in industrial sites.
Roll-stops help secure goods on the tailgate platform. Their integration at the far end of the platform maximises the available platform depth. The platform can also be equipped with a safety rail integrated into the side panels to secure loads during transport.

Choosing a Goupil utility vehicle with a column lift will help improve the efficiency of your handling teams. Indeed, the driver can be autonomous, loading and unloading are faster, and downtime is reduced.
A 100 % electric work tool
100% electric, a Goupil load bed with column lift allows maintenance operations to be carried out without any gas or noise emissions:
Transport of containers that cannot be towed on the public highway,
Transport of urban furniture,
Transport of parcels and pallets within airports,
Transport of heavy loads between different buildings in a logistics warehouse,
Transport of rolls within hotel complexes or health establishments...
Thanks to its compact size, it can be used in the narrowest and busiest city centre streets or in the various buildings of industrial or logistics sites.
Fitted with solid extensions, the platform offers a loading volume between 3.3 m3 and 5.9 m3.
The loading capacity of the tailgate (up to 500 kg) and the payload of the platform (up to 1,000 kg) make our load beds with column lift suitable for a range of activities. In addition, they are electrically powered, which means they meet today's environmental protection requirements.
G6 pick-up with column lift specifically designed for the Municipal Sports and Associations Department of Monaco