Das attraktive Angebot an Elektrofahrzeugen von Goupil beinhaltet viele Modelle ideal für den Betrieb innerhalb und außerhalb der Standorte von Gesundheitseinrichtungen. Die verschiedenen Konfigurationen ermöglichen es, effektiv auf die Bedürfnisse von Krankenhäusern und Gesundheitsdiensten zu reagieren.
Die Vorteile von Elektrofahrzeugen im Gesundheitswesen
Krankenhäuser sind ideale Ort für Goupil Elektrofahrzeuge besonders im In-House Einsatz:
Ökologie: unsere Elektrofahrzeuge setzen während der Benutzung kein CO2 frei und tragen somit zu einer gesünderen Umwelt bei.
Leise und Effektiv: Der leise Charakter unseres Goupil ermöglicht es, die Lärmbelästigung erheblich zu reduzieren. Die Reinigungsteams können zu jeder Tages- und Nachtzeit eingesetzt werden, ohne Patienten und Personal zu stören.
Image: Indem die Gesundheitsdienste täglich für Ihre Patienten arbeiten, geniessen sie natürlich ein positives Image. Mit der Wahl von Elektrofahrzeugen setzen sie sich für eine nachhaltige Entwicklung ein und stärken dieses positive Image.
Warum sollte man Goupil-Fahrzeuge für Einrichtungen im Gesundheitswesen wählen?
Gesundheitseinrichtungen setzen die Fahrzeuge für verschiedene Anwendungen an ihren Standorten ein. Ein elektrisches Nutzfahrzeug wie der Goupil bewegt sich problemlos auf dem gesamten Gelände ohne Patienten und Mitarbeiter zu stören. Dank der hohen Nutzlast und der sehr kompakten Abmessungen erweisen sich unsere Goupils als echte Arbeitsgeräte.
Finden Sie hier einige gängige Anwendungen für Gesundheitseinrichtungen:
Elektrofahrzeug mit integriertem Müllkontainer zur Sammlung von Abfällen und Entleeren der Müllkörbe au

ßerhalb des Krankenhauszentrums.

Elektrofahrzeug mit fester Pritsche für den Transport von medizinischen Geräten zwischen verschiedenen Gebäuden des Krankenhauskomplexes

.

Elektrischer

Kastenwagen mit Kühlsystem zum Transport von Lebensmitteln oder Apothekenprodukten.
Elektrischer Kastenwagen zum Wäschetransport…
Eco-friendly
Emission-free, the Goupil contributes to a healthier environment and can operate inside buildings. It is ideal for moving near sensitive areas such as emergency rooms or intensive care units.
Discreet
The quiet nature of our Goupil's significantly reduces noise pollution. Maintenance staff can work at any time of the day or night without disturbing patients and healthcare professionals.
Cost-effective
100% electric, our vans have lower operating costs than their internal combustion counterparts. Additionally, maintenance costs are reduced due to fewer moving parts in the vehicle.
Image
By working daily for their patients, healthcare services naturally benefit from a positive image. By choosing electric vehicles, they are making a commitment towards sustainable development. This ecological approach enhances the profession's reputation.
Managing a healthcare facility requires vehicles tailored for meal distribution, laundry management, transporting patients from their homes to the hospital.
Goupil offers a product line that meets all these needs and more. Faced with the challenges of climate change, healthcare professionals must find alternatives to combustion engines at all costs. Our vans are free from greenhouse gas emissions, making it possible to practice medicine in a way that respects both people and the environment.
Goupil, the perfect partner for healthcare facilities
Hospital centres, retirement homes, or other care facilities require robust and versatile utility vehicles to facilitate the daily routines of professionals and ensure the well-being of patients.
Our 100% electric trucks are well-suited for various maintenance and logistics tasks in a healthcare establishment. With a high payload capacity for an ultra-compact size, our Goupil's prove to be genuine work tools.
Our G4 or G6 models equipped with a tailgate are ideal for transporting carts for meal tray distribution.
They can also be used for moving laundry trolleys.
Goupil vehicles are also ideal for facilities management, including cleaning and the maintenance of hospital equipment and electric installations.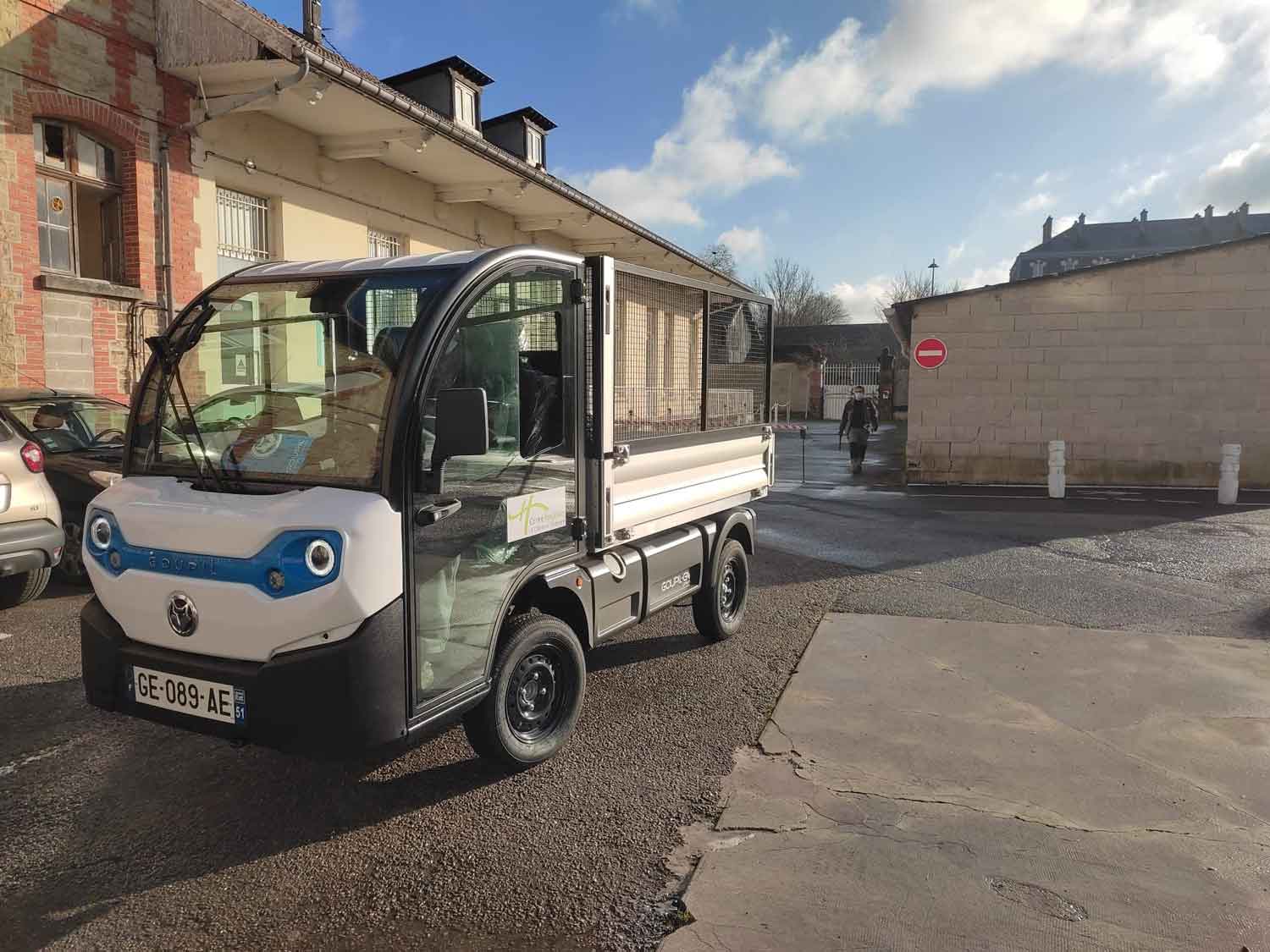 In addition to their use in hospitals and other medical structures, our vehicles can be adapted into mobile care units.
For instance, our G6 can be custom-fitted to reach individuals who are unable to travel to healthcare centres.
With its increased performances, the Goupil G6 can navigate through remote areas, where access to healthcare is limited due to a lack of medical professionals.
Goupil vehicles can also be tailored for transporting medical equipment or temperature-sensitive medicine to healthcare facilities. Thanks to their 100% electric technology, they can move unrestricted in low-emission zones.
Their compact size enables easy manoeuvrability in city centres, narrow alleys, or restricted spaces. Additionally, their small wheelbase facilitates parking during deliveries.
Specific configurations for various applications
Hospitals are state-managed structures. The government has established guidelines for all healthcare facilities in France regarding the use of cleaner means of transportation.
Healthcare professionals must implement the directives regarding the acquisition of vehicles with low or ultra-low emissions when renewing their fleet and the creation of a certain number of parking spaces for electric vehicles.
By choosing one or several Goupil vans for your hospital, you provide your teams with an eco-friendly and versatile tool. We offer numerous equipment to facilitate the daily tasks of medical staff. Here are some common applications for healthcare establishments:
Electric vehicle fitted with a refuse skip for collecting waste and emptying trash bins outside the hospital,
Electric pick-up for transporting medical equipment between various buildings on the hospital grounds,
Electric refrigerated or isothermal van for delivering food or pharmacy products,
Electric tailored van body for transporting clean and dirty laundry.
As with any vehicle acquisition project, the purchase or leasing of one or several Goupil vehicles should be carefully studied to find the configuration(s) that suit your activities.
Goupil's mission is to provide you with a work tool that fully meets your needs. Our catalogue includes many equipment for transportation, maintenance and other operations.
For more than 25 years, Goupil has been designing and manufacturing electric utility vehicles in France, in the department of Lot-et-Garonne.
Over the years, the quality and versatility of our vehicles have enabled us to offer sustainable mobility solutions for all types of businesses.
For specific applications, Goupil has built a strong reputation for providing tailor-made solutions. Don't hesitate to contact us to talk about your project, and we will come back to you with a customised solution and a pricing offer.
Our utility vehicles are available for purchase or leasing. Government incentives encouraging industries to switch to electric vehicles for the renewal of their fleet allow healthcare professionals to benefit from financial assistance.