Dank ihrer Robustheit und Ergonomie haben sich die 100 % elektrischen Nutzfahrzeuge von Goupil an vielen Industriestandorten als Referenzfahrzeug durchgesetzt (Automobilindustrie, Petrochemie, Metallurgie, Luftfahrt usw.).
Die Vorteile des Goupil e-Nutzfahrzeuges im Industriebereich
Vielseitig: als Pritsche oder Kastenwagen sind

Goupil-Fahrzeuge ideal zum Transport von Werkzeugen, von Material oder Mitarbeitern von A nach B innerhalb Ihrer Industriestandorte.

Wirtschaftlich: d

er Einsatz von elektrischen Nutzfahrzeugen befreit Sie von Tankkarten, von teuren Wartungskosten und Motorverschleißteilen, da Elektromotoren geringeren Belastungen (Motorstress) ausgesetzt sind.

Sauber: Unsere Elektrofahrzeuge sind leise und CO2-frei und können sogar in geschlossenen Industriegebäuden fahren

. Stop&Go Verkehr belasten weder Umwelt noch das Fahrzeug.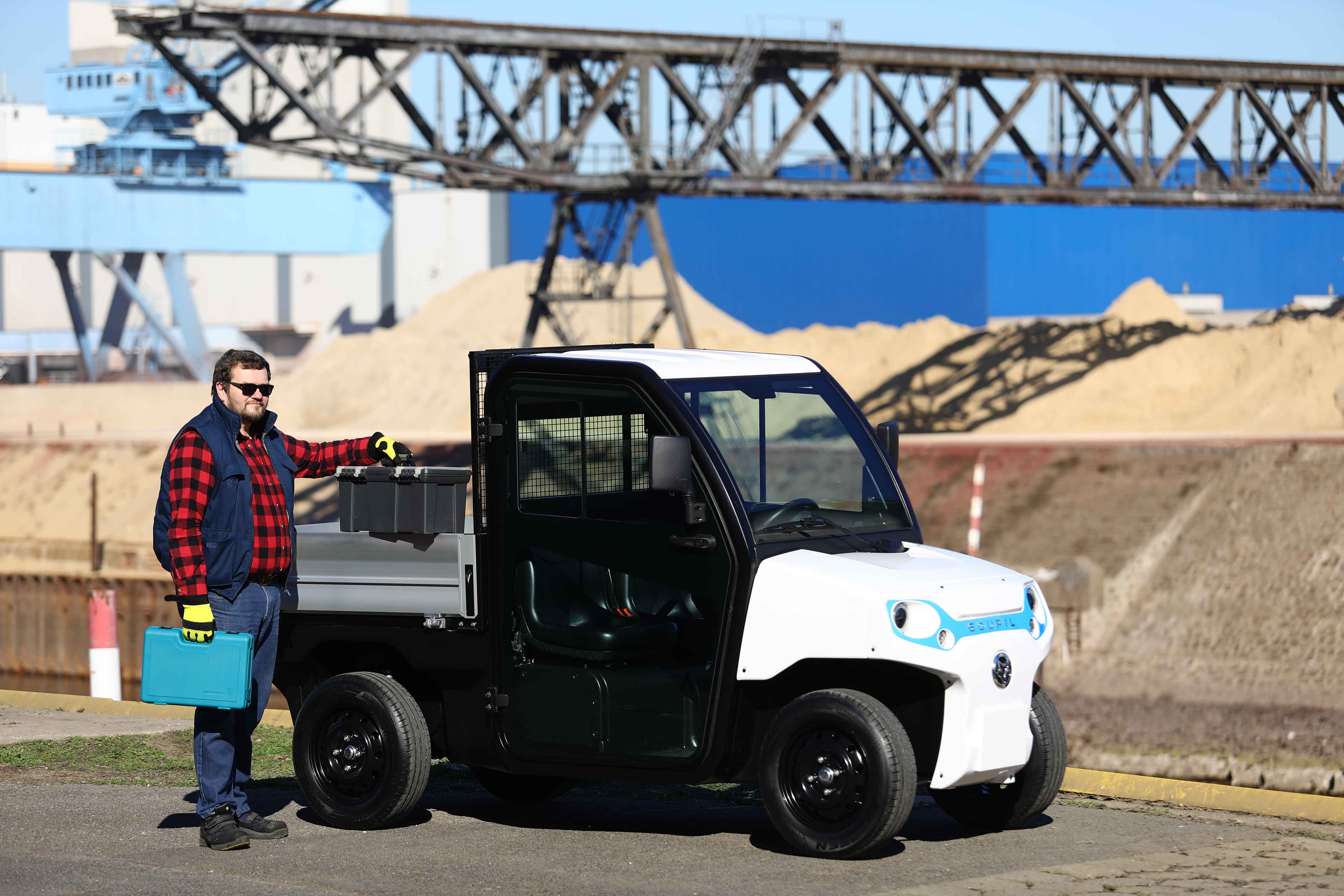 Warum sollte man Goupil-Fahrzeuge für den Industriesektor wählen?
Unsere G2 und G4-Fahrzeuge sind eine hervorragende Alternative zu Golfcarts und kleinen Nutzfahrzeugen mit Benzin- oder Dieselmotor auf Industriegeländen. Ihre ultra-kompakte Grösse und die Abwesenheit von Lärm- oder Gasemissionen erlaubt es in die Gebäude zu fahren und somit möglichst nah an der Produktionslinie zu arbeiten.
Entdecken Sie die vielen Möglichkeiten mit 100 % elektrischem Antrieb für Industriestandorte:
Standardkasten oder mit Ausstattung, insbesondere geeignet für technische Teams. Ideal z.B. für Elektriker zur Wartung des Installationen.
Pritsche mit Zurrösen, perfekt geeignet zum Transport von schweren Lasten (Nutzlast bis 1 230 kg).

Goupil Elektrofahrzeug ausgestattet mit einem Hebekran zur sicheren Beförderung, mit einer Laderampe zum Transport von Rollwagen oder einer Plattform für Arbeiten in der Höhe.

Löschfahrzeug für die Erstversorgung vor Ort (dieses Fahrzeug kommt durch enge Gänge und kann somit die Erstversorgung vornehmen)
Reducing emissions
Being 100% electric, Goupil's contribute to lowering your carbon footprint and improving air quality. By electrifying their fleet, industries can play an active role in the fight against climate change.
Reducing operating costs
The usage costs of electric vehicles are lower compared to those of combustion engine vehicles: recharging the battery is less expensive than filling the tank with petrol. Besides, an electric vehicle has fewer moving parts, therefore requiring less maintenance.
Increased performance
Electric vans are known for their high-torque engine and fast acceleration. They are therefore perfectly suited to the intensive activities of industrial sites: tipper truck for transporting heavy loads, van body for maintenance activities, column lift for storage operations…
Goupil vehicles' high level of performance increase the efficiency and productivity of industrial operations.
Ergonomy
Industrial buildings are often noisy. Opting for Goupil vans will provide your teams with a silent means of transport.
The absence of vibrations when driving will improve their work conditions and reduce wear and tear of the vehicles.
Thanks to their electric technology, our utility trucks can be used inside buildings for all types of industrial applications, such as deliveries, transport of goods, facility maintenance (heating, air-conditioning, etc.) or maintaining machines…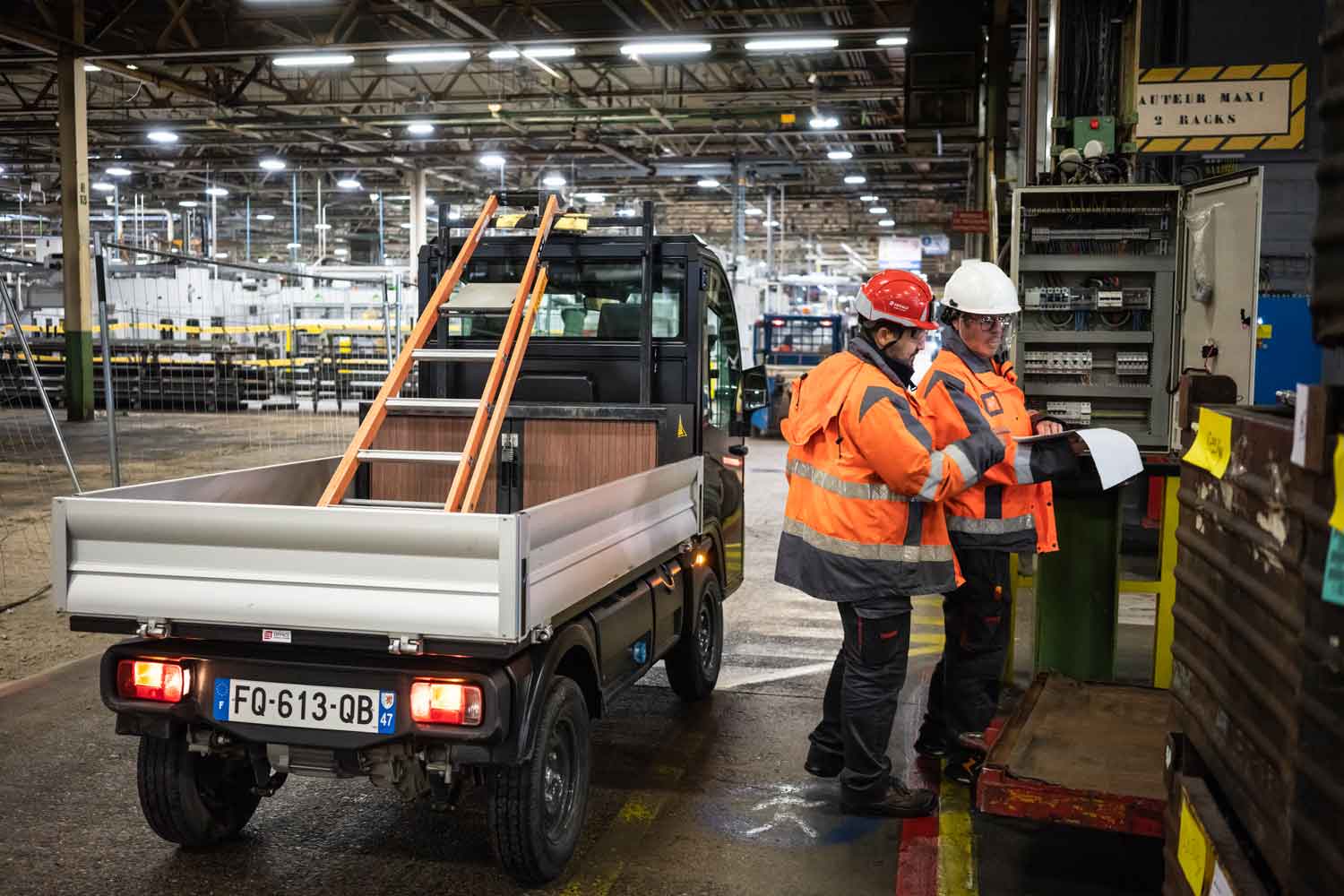 Climate change and environmental sustainability are at the forefront of global concerns. As we strive towards a more sustainable future, investing in a fleet of electric vehicles will enhance the image of your company: it is a unique opportunity to show your commitment towards the environment and reducing your carbon footprint.
Electric vehicles at a glance*
2 to 6 times less CO2 emissions over the entire life cycle of an electric vehicle compared with a combustion engine vehicle
80% of lithium battery components are already recyclable
2 to 3 € per 100 km travelled in an electric vehicle, compared with 6 to 8 € for a combustion engine vehicle
Up to €11,000 in government incentives upon purchase
90% of the time, recharging takes place at home or at work
More than 29,000 recharging points open to the public
Goupil, the perfect partner for industries
The presence of electric vans is growing in the industrial sector: vehicles with renewable energy are booming and a new era of sustainable mobility encourages many businesses to electrify their fleets.
Our G2 and G4 vehicles are an excellent alternative to petrol or diesel-powered utility vehicles for industrial sites.
Their ultra-compact size and manoeuvrability make it possible to reach areas of your facility that were previously not accessible, giving your operators greater autonomy on a daily basis.
With their short wheelbase and tight turning radius, Goupil vehicles can run and manoeuvre easily in logistics warehouses or harbours for the handling of goods.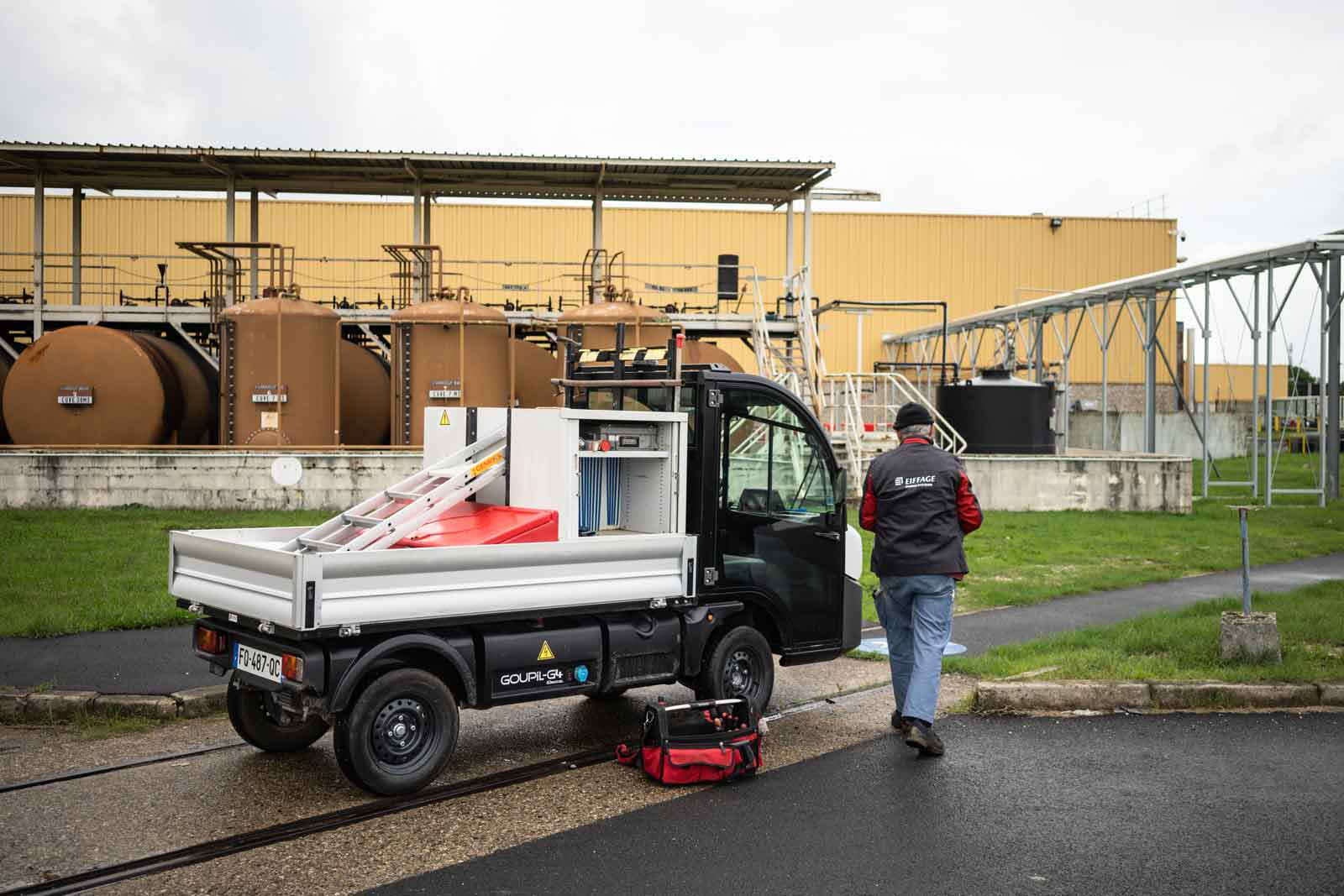 Our vans have a maximum range of nearly 200 km. The G2, G4 and G6 models can all be fitted with lithium batteries with capacities ranging from 5.2 kWh to 28.8 kWh.
Lithium technology enables partial recharging of the battery, facilitating vehicle availability for industries working three shifts.
Installing charging points on your premises will simplify your logistics operations and offer your teams the possibility to use them for their personal cars.
With a high payload – up to 1,200 kg – and a maximum towing capacity of 1,700 kg, our vans are the vehicle of choice for many businesses in France and in Europe.
Specific body options for various applications
The strength of Goupil lies in our capacity to offer versatile vehicles that can be used in a variety of industrial applications.
Fitted with a tipper with removable and detachable gates, our trucks are well adapted to airports for transporting luggage, equipment or people.
Fitted with a converted van body, the Goupil is the perfect work partner for your Facility Manager, responsible for maintaining various electric equipment (heating, air-conditioning…) or repairing machines on your production lines.
Our range of products includes column lifts for storage operations and aerial work platforms for work at height.
Acquiring a fleet of electric utility vehicles for moving goods within a logistics centre contributes to reducing the environmental impact of the entire transport and logistics industry.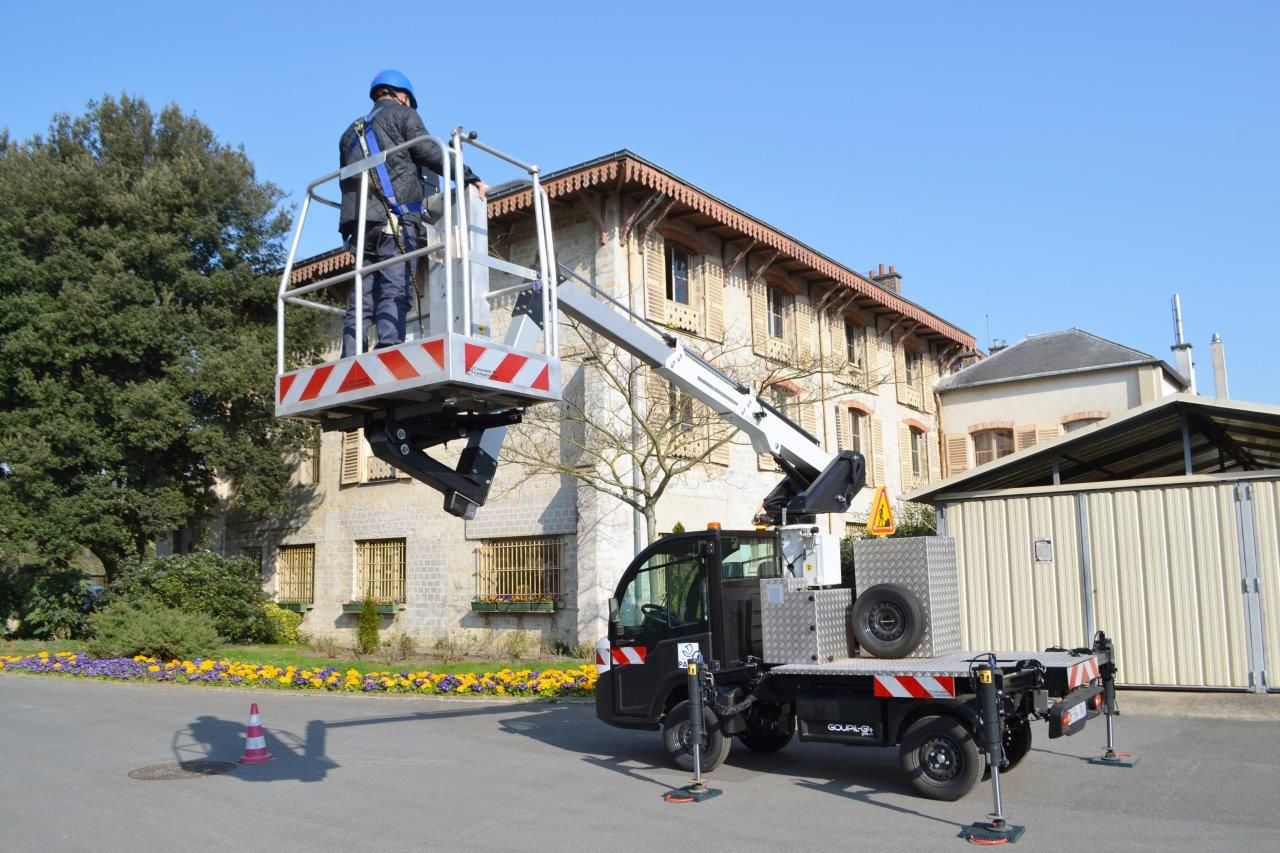 Sales of electric cars and vans are speeding up in France and in Europe.
Besides the growing awareness about climate change, this increase is also being driven by financial incentives et the roll-out of infrastructures facilitating the use of electric vehicles, including the expansion of charging points.
Admittedly, the health crisis slowed sales for a period, but figures show that electric energy will see the biggest increase in vehicle registrations in Europe in the third quarter of 2022.
If you want to show your commitment towards a more sustainable environment by opting for one or several Goupil's for your industrial site, do not hesitate to contact us. Our team is available to advise you on the best model and equipment for your industry.
We also offer tailor-made solutions, developed by our Research & Development department or in partnership with coachbuilders: whatever your business plan, we have a vehicle adapted to your needs.
Contact us today for more information or to request a quotation!
Source - *French Ministry for the environment:
https://www.ecologie.gouv.fr/developper-lautomobile-propre-et-voitures-electriques