Goupil electric utility vehicles are perfect for transport and maintenance operations in airports.
Electric utility vehicles are becoming increasingly popular on airport sites.
To ensure the smooth running of logistics operations in airports, including terminals, runways, hangars and warehouses, it is essential for staff to have access to robust and versatile means of transportation.
100% electric and 100% customisable, Goupil small utility vehicles are tailor-made to meet the various requirements of the aviation sector.
Our utility vans are used for various purposes within airport operations, ranging from maintenance and ground support to passenger transportation.
Whether for professional or private travel, travellers are ever more concerned about climate issues: by equipping your services with electric carts to perform their daily tasks, you contribute to a more sustainable management of the aviation sector.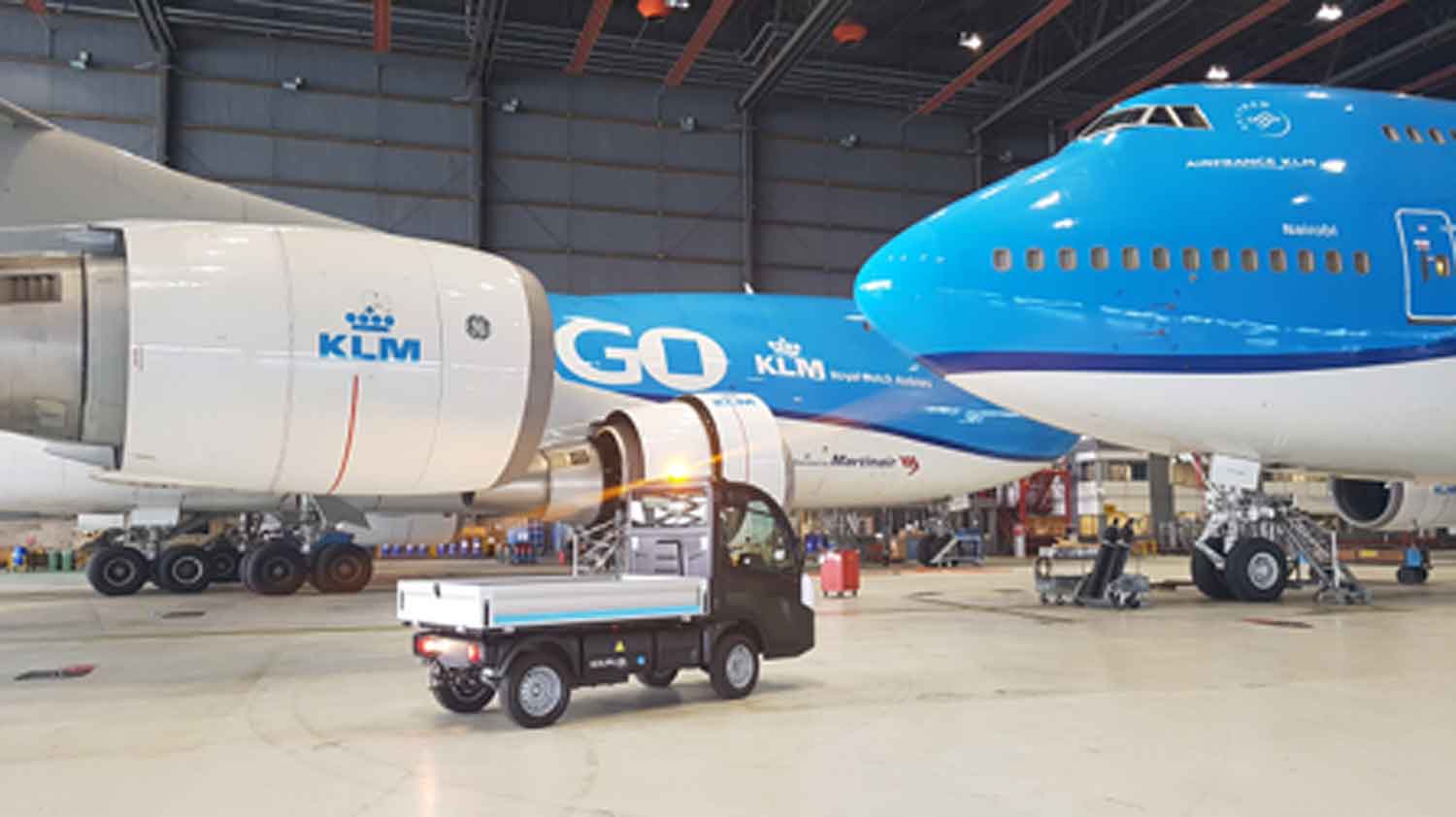 Goupil vehicles are available for purchase or lease, with or without maintenance contracts. Interested in our products? Don't wait any longer and contact us today!
The benefits of electric technology for the airport environment
The aviation sector requires efficient means of transportation capable of swiftly and safely operating throughout the entire airport.
The electric nature of Goupil vehicles allows them to travel both inside and outside buildings. They can be used from within a terminal for passenger transport or baggage delivery right up to the aircraft.
The 100% electric small utility vehicle offers an ideal mobility solution for various applications within an airport:
Eco-friendly
The climate-related challenges require the aviation sector to drastically reduce their CO2 emissions. By adopting electric vehicles for delivery, transportation, and security operations, aviation industry stakeholders demonstrate their commitment to a more sustainable future on a daily basis.
Quiet
Airports are often very noisy environments. Opting for an electric van contributes to noise reduction and provides a more pleasant environment for travellers and airport staff (baggage handlers, mechanics, various agents, airline pilots, etc.).
Versatile
The electric van can move both indoors and outdoors, making it the ideal utility vehicle for airport sites. Using one vehicle for various applications allows agents to operate faster and more efficiently.
Cost-efficient
The comparison between a thermal and electric vehicle is clear: the operating cost of a zero-emission truck is significantly reduced compared to a combustion engine van. This observation is largely due to the vehicle's architecture, which has fewer moving parts, thereby limiting maintenance costs.
The positive image associated with the use of electric vehicles also extends to rental agencies present in airports. These agencies are expanding their offer of low or zero-emission vehicles
The electrification of transportation means is essential for the future of our planet. With over 25 years of experience, Goupil has built a solid reputation by delivering products that meet the requirements of our clients, regardless of their business activities: industries, airports, local authorities, or tourism players.
Goupil, the ideal partner for airports
A dynamic and demanding environment, airports require robust, compact, and versatile utility vehicles.
Goupil offers a range of vehicles that perfectly meet these requirements.
Robust
Goupil vehicles have been designed to facilitate maintenance and logistics operations for the airport sector.
Our chassis provide a payload capacity of up to 1,200 kg and can tow up to 1,700 kg.
Our range includes various lead-acid and lithium batteries with capacities tailored to your needs: from 5.8 kWh to 15.4 kWh for lead-acid technology, and from 5.2 kWh to 28.8 kWh for lithium technology.
Compact
The compact dimensions of our vans make them ideal means of transport for airport service agents.
Their reduced turning radius facilitates manoeuvres, and their ultra-compact size allows for easy movement without obstructing travellers inside the terminal or personnel in hangars or on the runways.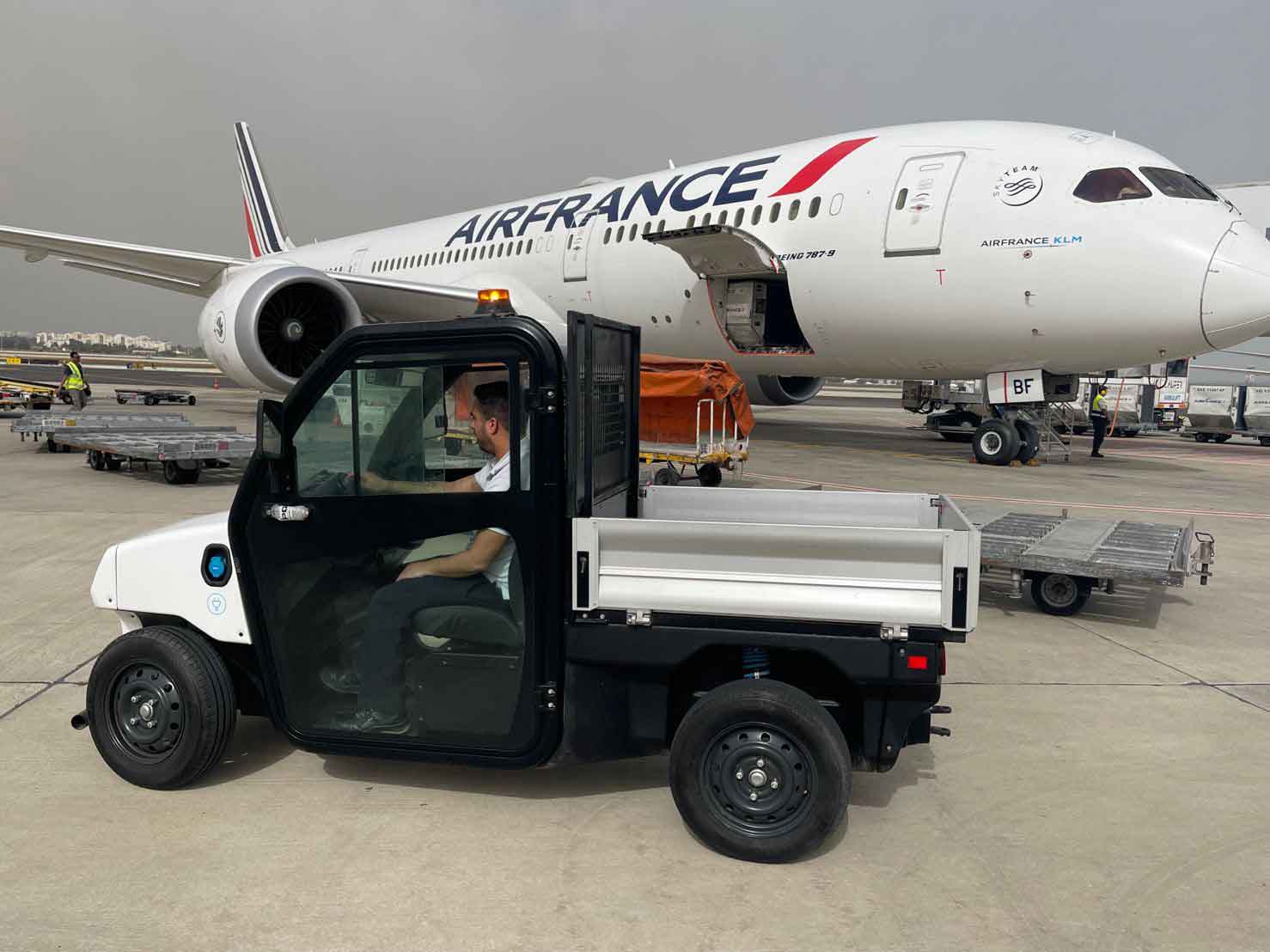 Multi-purpose
The Goupil is a true "Swiss Army knife" truck.
The diversity of our equipment range offers a solution for every application. From luggage transportation to storage operations in warehouses, as well as cleaning services, the van offers unparalleled modularity.
Our range of combined equipment with load bed allows for configuration changes in a matter of minutes. As a result, a single vehicle can be used by various teams to accomplish multiple tasks.
Specific body options for various applications
An airport is a constantly active environment made up of various infrastructures, from the main terminal to the runways and control towers. The different services within an airport share a common goal: ensuring the safety and comfort of travellers.
Airports are also hubs of activity where various professions operate, including maintenance, baggage handling, warehousing, and cargo transportation.
With an extensive range of equipment, Goupil offers tailor-made solutions to meet all needs:
Van body with shutters for maintenance operations on runways and inside terminals,
Load bed with column lift for cargo handling and storage in warehouses,
Refrigerated of isothermal van designed for transporting food and meal trays,
Load bed with tow hitch for towing baggage carts from the terminal to the aircraft.
Our product line also includes configurations dedicated to cleaning services within the airports.
The G2, the most compact model in our range, can be fitted either with a van body or a load bed to ensure the cleanliness of dining areas, restrooms, and various relaxation spaces within airports.
The G4 and G6 models, fitted with a load bed and box for storing cleaning products, are perfect for maintaining outdoor spaces.
Goupil provides solutions tailored to waste management on airport sites: aluminium or steel waste collectors, refuse collection vehicles with bin lifters—whatever your needs, we have a solution to meet them.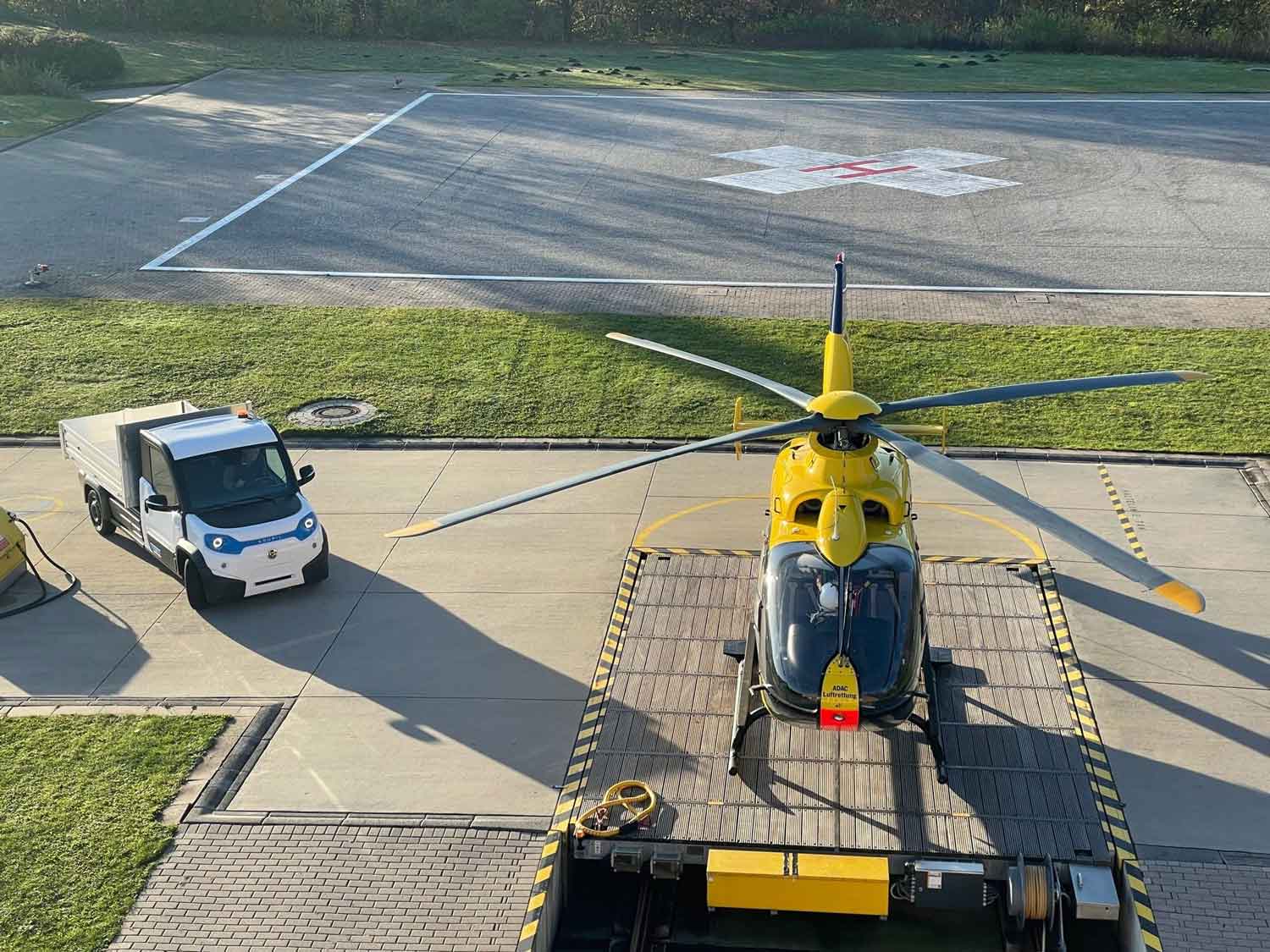 Since it was founded in 1996, Goupil has won the loyalty of its customers in France and Europe thanks to a dedicated team, committed to providing the best possible service to users of our utility vehicles.
Our sales and engineering teams work closely together to deliver tailor-made solutions. Many of our configurations have been adapted to best meet our clients' needs.
From an adventure that began in the South-West of France, an internationally oriented company emerged, that has stayed true to its original mission: offering a diverse clientele 100% electric utility vehicles that reflect their image.
For more information about our vehicles or to request a quotation, do not hesitate to contact us!